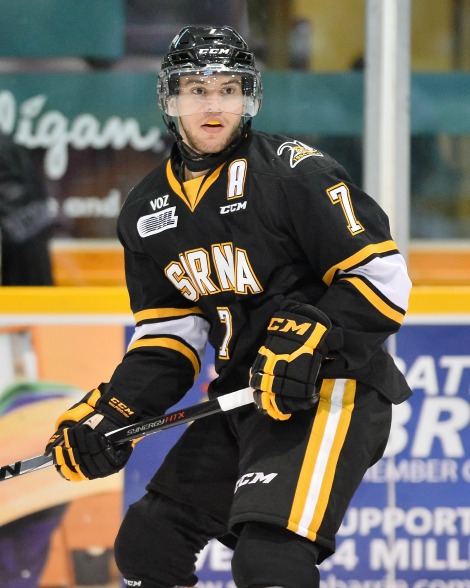 Talk about being all in.
In less than 72 hours, the Soo Greyhounds acquired Justin Bailey from the Kitchener Rangers, Nick Ritchie and Connor Boland from the Peterborough Petes and now Anthony DeAngelo from the Sarnia Sting.
The latest deal sees the Greyhounds bring in DeAngelo from Sarnia in exchange for Anthony Salintri and three draft picks. The picks include a second round pick in 2015 (originally Windsor's), a second round pick in 2017 and a fourth round pick in 2018.
DeAngelo, a native of Sewell, New Jersey, had 10 goals and 28 assists in 29 games with the Sting this season and was a member of the US National Junior Team at the recently-completed 2015 World Junior Hockey Championships. His 38 points are fourth among defencemen in OHL scoring.
DeAngelo played in 210 career games with the Sting over the course of four seasons, scoring 40 goals and 190 points. His 15 goals and 71 points in 2013-14 were tops among OHL defencemen.
"There's not a player that wasn't on our roster other than Anthony DeAngelo that you could put on the back end to play on the power play that fits in perfectly," Greyhounds General Manager Kyle Raftis said of Thursday's major trade of the day. "When you look at the way he plays, the way he moves the puck and his vision and compete level, it's going to be a good fit."
At the World Juniors, DeAngelo had six assists in four games.
The 19-year-old defenceman had been suspended for eight games by the OHL last season for violating the OHL's Harassment and Abuse/Diversity policy for an incident in January.
"I'm a big believer in giving guys an opportunity to show what they are to me," Raftis said about any sort of reputation DeAngelo may have. "Everybody hears something about a player but you really don't know anything about somebody until you have direct contact and you have a chance to work with them. Hockey, like any other business, is not the best for a lot of gossip. A lot of things get said. When you have players, you watch them compete. You talk to people you know and they always speak highly of these people and Anthony was one of those people. We did our due diligence"
The move adds another first round NHL draft pick to the Greyhounds lineup. With Darnell Nurse (Edmonton, 2013) and Jared McCann (Vancouver, 2014) already in the mix, the Greyhounds now have four with the acquisitions of Ritchie (Anaheim, 2014) and DeAngelo (Tampa Bay, 2014).
All four have signed entry level contracts with their respective clubs.
(Photo: New Soo Greyhounds defenceman Anthony DeAngelo. Terry Wilson/OHL Images)