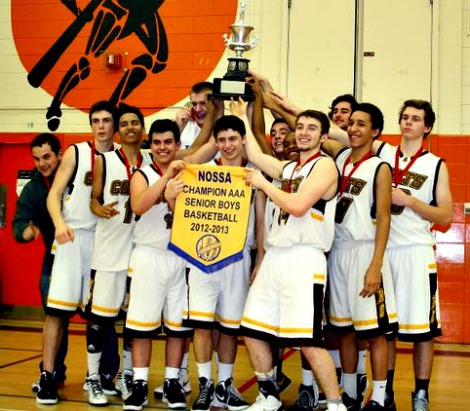 PRESS RELEASE
KORAH ATHLETICS
*********************
KORAH COLLEGIATE'S SENIOR BOYS BASKETBALL TEAM WIN NORTHERN ONTARIO'S MOST PRESTEGIOUS CROWN
This past weekend your senior boys basketball team travelled to Sudbury to compete in the Northern Ontario Secondary Schools (NOSSA) regional championships. Going in the Colts knew that it would be a war as every team was going to be a challenge.
In the first game the Colts played Lo-Ellen Park from Sudbury. Lo-Ellen got out to an early 7-2 lead, but that was short lived as the Colts erased the lead and never looked back posting a 71-59 win. Anthony Iacoe led the way with 32 points. This led to a show down with the Superior Heights Steelhawks. The winner of the game would head to the NOSSA championship game, while the team that comes up short will have their season end abruptly.
Again the Colts found themselves down early as the Steelhawks came out to an early 9-4 lead. But again the Colts chipped away at it, and came out on top 55-48. Once again Iacoe was strong pouring in 31 of the teams 55 points.
This led to a showdown with the host and number one seed Lasalle Lancers from Sudbury. In their home gym the Lancers had momentum as well as the hometown crowd on their side. The Lancers came out strong with a 9-2 start. The Colts maintained their composure and chipped away again with great defensive pressure and offensive transition. As well, Anthony Iacoe, who was recognized as the city's most valuable player as well as this year's Referee's award winner (given annually to the player who combines skill with sportsmanship) saved his best performance for the championship game. Iacoe had 20 points at the half, and helped lead the Colts to a 31-18 lead at the half.
The second half saw more of the same as the Colts continued with their great team play and continued to hit shots and make stops. The final ended with a 62-43 win. Iacoe finished the day with 34 points and Jonah Fogg added 12. Peter Greve, Stephen Maloney, Sam and Anthony Ivey, and Liam Train also had solid performances to secure the NOSSA title.
The Colts were 11 strong all weekend, and are now the reigning NOSSA AAA champions. They have punched their ticket to the AAA OFSAA championships which will be held next week in Windsor.
*********************