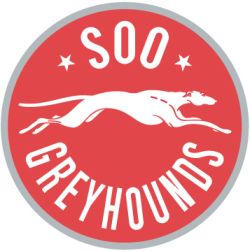 PRESS RELEASE
SOO GREYHOUNDS MINOR BANTAMS
*******************
The Sault Algoma Industrial Greyhounds travelled to Traverse City over the weekend to play a three-game series against Traverse City Pepsi Bantam, coached by former Detroit Red Wing Dallas Drake.
Despite returning home winless, the local minor bantam team showed well.
In their first game, the Sault squad dropped a 5-0 decision.
In their second game, a 3-1 empty net loss, Lucas Stefano scored the lone goal for the Algoma Industrial Greyhounds, while Zach Taylor chipped in with an assist. Garrett Boyonoski was in net.
In their final game, the Greyhounds ended up on the losing end of a 2-1 decision. Mark Tassone scored, while Stefano and Holden Brock each had an assist. Matthew Reid took the loss in net.
Next action for the Sault Algoma Industrial Greyhounds is this upcoming weekend when they travel to Oshawa to take part in the 8th Annual Spirit Challenge Tournament.
*******************