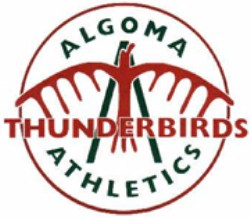 When the OCAA basketball championships open up next weekend, Algoma University will be well represented.
The Algoma University men picked up a 74-69 victory over George Brown on home court on Saturday afternoon, thus earning a spot in the OCAA Men's Basketball Eight Team Championship.
Dele Oworu led the way for Algoma with 28 points and added 13 rebounds. Jovain Wilson added 24 points for Algoma.
Frankie Gyamfi had 21 points for George Brown.
Algoma fell behind in the win, trailing by as many as 14 points in the second quarter before going on a run to end the first half. In the third quarter, Algoma outscored George Brown 21-11 and held on for the victory.
The Algoma men will play their first game of the OCAA Championship, being held at Algonquin, on March 1st at 8 pm against host-Algonquin.
The Algoma women's team also heads to the OCAA Women's Basketball Championship, being held at Seneca College in Toronto. The Algoma women will open their tournament on Mar. 1 when they face George Brown.
This marks the first time both Algoma basketball teams have qualified for their respective OCAA Championships in the same season.