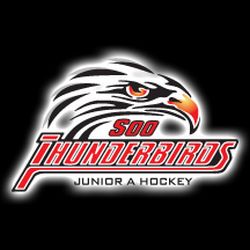 The Soo Thunderbirds winning streak hit 25 games on Friday night in Espanola.
The Thunderbirds picked up a 3-1 win over the Espanola Rivermen in Espanola to extend the winning streak, which began on Nov. 16 against the Blind River Beavers.
Nicolas Tassone and Joey Miller each had a goal and an assist in the win for the Thunderbirds while Eric Hilock also scored.
Thunderbirds goaltender Joel Horodziejczyk stopped 26 shots in the win.
Brad Edwards had the lone goal for Espanola in the loss.
The game saw a pair of player streaks come to an end. Thunderbirds forward Gavin Burbach had his 10-game goal streak snapped while Espanola forward Brennan Dubchak was held off the scoresheet for the first time in 27 games.
With the win, the Thunderbirds record improves to 43-4-0-2, good for 88 points as they continue to sit in top spot in the NOJHL standings. Espanola's record falls to 26-20-0-1 with the loss.
The Thunderbirds return to action on Sunday afternoon when they host the Kirkland Lake Gold Miners in a 3 p.m. start at the Essar Centre.