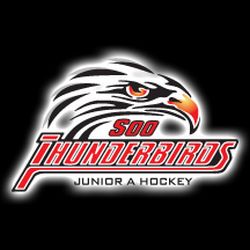 Canada's top-ranked Jr. A team continued their winning streak on Saturday night in Blind River.
The Soo Thunderbirds picked up consecutive win 24 on Saturday, thanks to a 5-2 win over the Blind River Beavers in Northern Ontario Junior Hockey League action. .
Thunderbirds forward Gavin Burbach had a goal and an assist in the win. Burbach has scored in 10 consecutive games.
Medric Mercier and Jaren Bellini also had a goal and an assist in the win while Anthony Butorac set up a pair of goals in the win. Goaltender Brian Kment stopped 33 shots. Anthony Miller and Brett Jeffries also scored for the Thunderbirds.
Tim Perks and Tyler Shanush scored for Blind River in the loss.
With the win the Thunderbirds improve to 42-4-0-2. With 86 points, the Thunderbirds have a 10-point lead over the Kirkland Lake Gold Miners who, sit second in the NOJHL standings with a 36-6-0-4 record. The Gold Miners do had a pair of games in hand on the Thunderbirds.
With the loss, Blind River's record falls to 7-35-0-4.
The Thunderbirds return to action on Feb. 14 when they travel to Espanola to take on the Rivermen before returning home to take on the Kirkland Lake Gold Miners at the Essar Centre on Feb. 16.