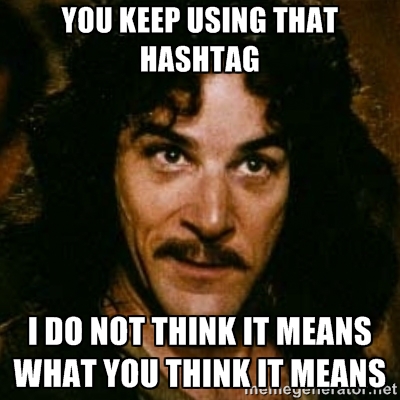 Twitter users who search the social networking service hoping to stay informed about Sault Ste. Marie could be using the wrong hashtag.
Some prominent Sault Ste. Marie personalities - including our own mayor and Team Brad Jacobs - have been using the #SSM hashtag when engaging readers on social media, though a quick search shows that tag shows it is more likely to be associated with discussions about same-sex marriage.
Social media strategist Nathan Smith says choosing hashtags while using social media can help people find and possibly share your posts, but using the wrong hashtag can often have the opposite effect.
Smith says the most popular hashtag currently being used for Sault Ste. Marie is #Sault, which is used by local businesses, news organizations and citizens when using social media such as Twitter, Facebook and Instagram.
"When a user includes #Sault in their post, it creates a hyperlink, said Smith. "If you click on the #Sault, you will be shown a list of tweets or public Facebook posts that contain the same hashtag."
Smith says hashtags aren't as confusing as most people make them out to be, and are most often used to categorize a conversation by topic.
Other less-popular popular hashtags for Sault Ste. Marie include #Soo and #SaultSteMarie.
One of the dangers of using hashtags is that they may be used for causes or events that are bigger or more popular than the one you are trying to promote, making your tweets harder for some to find.
For instance, instead of using the #Sault hashtag, Mayor Debbie Amaroso's official @SaultMayor Twitter account favours #SSM, which is much more commonly used to promote or debate same-sex marriage. The same goes for the @TeamBradJacobs account of the Olympic gold medal winners.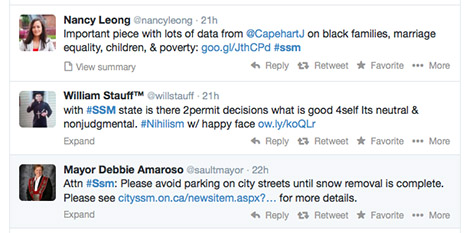 (PHOTO: Screenshot of recent Twitter posts using the #SSM hashtag, two posts discussing same-sex marriage, while Mayor Debbie Amaroso's post discusses street parking in Sault Ste. Marie.)
Viewing the latest 35 posts on Twitter under the #SSM hashtag, only one Tweet was referring to the city of Sault Ste. Marie, while the other 34 were almost exclusively in reference to same-sex marriage.
"Im not surprised. There are acronyms and short forms for everything," said Stephanie Pagnucco, community event coordinator for the city of Sault Ste. Marie.
While the mayor's intention may be to promote the city, her tweets are being lost to users searching for information about Sault Ste. Marie.
While Pagnucco said there is nothing wrong with sharing the #SSM hashtag with discussions about same-sex marriage, she acknowledged using another hashtag may result in better searchability for users seeking information about the city.
Pagnucco said she will reach out to corporate affairs, which manages the @citySSM account, to come up with a unified standard for which hashtag should be used in the future.
Although Pagnucco noted that Amaroso initially experienced a learning curve when taking to social media, it has now become a part of the mayor's daily routine and she encourages Saulites to continue reaching out to the mayor by Twitter and Facebook.