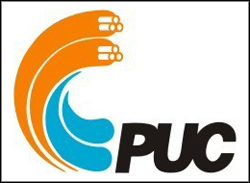 NEWS RELEASE
PUBLIC UTILITIES COMMISSION
*************************
PUC customers will be asked to provide valuable feedback as part of the new Water Quality Improvement Project (the Project) that is already in progress.
This May, Ipsos Reid, the national public opinion research firm, will be conducting a customer satisfaction survey of randomly selected PUC customers.
The purpose of the survey is to establish a measurement of customer satisfaction as stages of the Project are implemented.
"Over the past few months our engineering team has been busy laying the ground work for the first stage of the Project which is now underway." says Dominic Parrella, President and CEO PUC Services Inc.
The first step in Stage 1 of the Project announced this past February involves the eventual removal of the Lorna Wells from day-to-day service.
This first requires completion of upgrades to the Steelton Well, which are presently underway.
The second step involves the addition of two advanced treatment methods into the treatment and distribution systems.
Once fully implemented by end of 2014, this stage of the Project would address the main concerns of PUC customers regarding the colour, taste and odour of their water.
"There is a strong possibility that with the completion of Stage 1 the objectionable taste, odor and colour issues will be resolved." says Parrella. "This is why we are looking for the public's help through the customer survey". The Ipsos Reid survey that will run sometime in May will provide PUC with a baseline for customer satisfaction. "I cannot overstate the vital importance customer feedback will play in determining if we move forward with Stage 2." says Parrella.
If it isn't necessary to proceed with Stage 2 of the Project, it would mean a lower overall cost for the Project and therefore a smaller increase on water bills.
The preliminary budget to implement the first stage of the Project is approximately $2.7 million while the cost of the second stage is approximately $4 million.
"It's obvious that in the past we failed to adequately address the water quality concerns raised by our customers, and for that we sincerely apologize." says Parrella. "Learning a valuable lesson from this, we made it a priority to include a Customer Satisfaction component as a critical benchmark when we evaluate the success of implementing the Water Quality Improvement Project."
In keeping with their commitment to improve the customer communication process, the PUC will also engage their customers further with monthly Project updates.
"Regrettably, we did a poor job of communicating with our customers during the transition to the free-chlorine treatment process." says Parrella. "Involving our customers in the implementation of our water quality solution is the best way we know to ensure that we don't lose sight of their concerns again."
Customers looking for more information on the Project are encouraged to visit the PUC website; www.ssmpuc.com or call Customer Service at 705-759-6522 Monday through Friday (9 a.m.-4:30 p.m.).
*************************