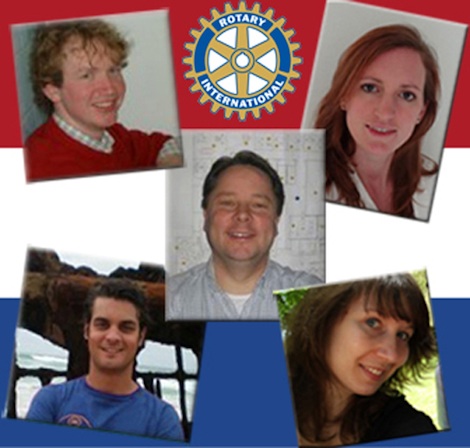 NEWS RELEASE
ROTARY CLUB OF SAULT STE. MARIE
*************************
Welcoming our newest visitors from the Netherlands
Sault Ste. Marie will host five from the Rotary Foundation's Group Study Exchange program
SAULT STE. MARIE, ON (April 22, 2013) - The Rotary Club of Sault Ste. Marie is proud to announce that it will be hosting four young professionals and their team leader this week as a part of the Rotary group study exchange program.
The group will tour Wawa and the twin Saults to get a better understanding of how we conduct business here in North America.
Special points of interest for the group include journalism, aviation, marketing, real-estate development and financial services.
"The Group Study Exchange is an excellent opportunity for young professionals to explore and experience their careers in another country," said Diane Marshall, Rotary Club of Sault Ste. Marie, Group Study Exchange Committee co-chair.
"While in Sault Ste. Marie, they will visit and exchange ideas with publishers, journalists, real estate developers, [and] aviation personnel, plus IT experts. In addition, we will be able to showcase beautiful Northern Ontario and Lake Superior. They will be able to enjoy the vastness of Lake Superior as they travel to Wawa to visit their Rotary club on Wednesday. Although a brief stay, we intend to provide a rich experience that they will remember."
About the exchange program

The Rotary Foundation's Group Study Exchange (GSE) program is a unique cultural and vocational exchange opportunity for businesspeople and professionals between the ages of 25 and 40 who are in the early stages of their careers.
The program provides travel grants for teams to exchange visits in paired areas of different countries.
For four to six weeks, team members experience the host country's culture and institutions, observe how their vocations are practiced abroad, develop personal and professional relationships, and exchange ideas.
In a typical four-week tour, applicants participate in five full days of vocational visits, 15 to 20 club presentations, 10 to 15 formal visits and social events, two to three days at the district conference, three to four hours per day of cultural and site tours, and three to four hours per day of free time with host families.
For each team member, the Foundation provides the most economical round-trip airline ticket between the home and host countries. Rotarians in the host area provide for meals, lodging, and group travel within their district.
For more information, please visit here.
*************************