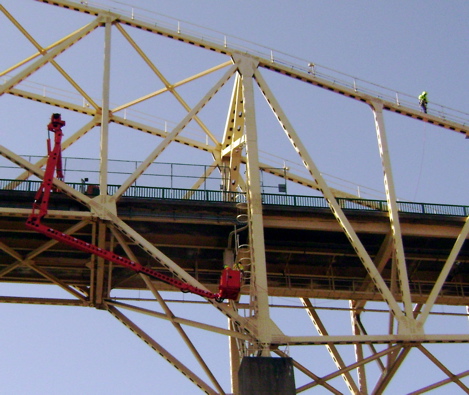 NEWS RELEASE
INTERNATIONAL BRIDGE ADMINISTRATION
*************************
Cold weather and wind Monday didn't stop International Bridge Administration (IBA) employees from getting a head start on the installation of red and white rope light strands on the Canadian arch portion of the bridge as part of the 50th anniversary celebration this year.
Test strands of red, white and blue lights have been up on the U.S. arch portion for nearly a year.
IBA staff will be installing the lights on the full length of the U.S. and Canadian curved arch trusses to match the decorative concept chosen by the public last fall via a public voting website set up by the IBA.
A June 28 anniversary community lighting event is being planned with fireworks display to follow.
Photo courtesy of IBA
*************************