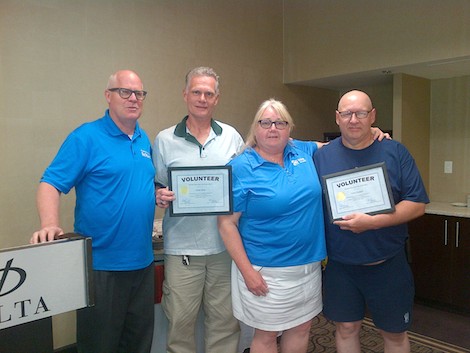 NEWS RELEASE
HABITAT FOR HUMANITY
*************************
Last evening Habitat for Humanity held its 10th Annual General Meeting at the Delta Waterfront Sault Ste Marie Hotel & Conference Centre, a Habitat Corporate Sponsor.


At that time, Chris Rumple and Norm West were presented with the Linda Lewis Volunteer Award for Exceptional Volunteer Service.
Thank you to Norm and Chris!


Incoming Chairperson, Lorri Kennis, addressed the gathering citing the accomplishments of the past year and noting the extensive support of the Sault Ste. Marie community in the Habitat Restore emphasizing the importance of the funds being raised that go towards new builds of homes for Sault Ste. Marie families.
She also noted the incredible amount of volunteer time given to the work of Habitat by many Saultites.


In fact, of the 65 Habitat Affiliates across Canada, Sault Ste. Marie was 7th highest in the number of volunteer hours which totaled 24,571, up over 9,041 hours from the year before.


Executive Director Colin Glassford states "The support from the Sault Ste. Marie community for the work of Habitat is astounding. The volunteer time given is priceless and absolutely critical as we move forward with our plans to partner with families to build more homes."


The Mission of Habitat for Humanity around the world is to mobilize volunteers and community partners in building affordable housing and promoting home ownership as a means to breaking the cycle of poverty.

The Vision of Habitat for Humanity is a world where everyone has a safe and decent place to live.

The Board of Directors and Staff of Habitat for Humanity Sault Ste. Marie, with the strong support of the citizens of our community, will continue to deliver this mission and vision in our city.


The newly elected Board Members for 2014/15 include:

Lorri Kennis- Chair Person Jodi Nastor- Vice Chair
Anna Hamilton- Treasurer David Thompson- Recording Secretary
Harvey Walsh- Director Penny Hunter- Director
Candy Mitchell- Director Tom Marcolinni - Director
Kathy Cyr- Director
Habitat's 2nd Annual fundraising event- HabiCache…The Hunt That Builds Homes, will take place for the second time on July 5 at Roberta Bondar Pavilion from 11:30 a.m. - 4 p.m.
For more information and to register contact admin@habitatsault.ca or call 705 942-7443 x26.
*************************