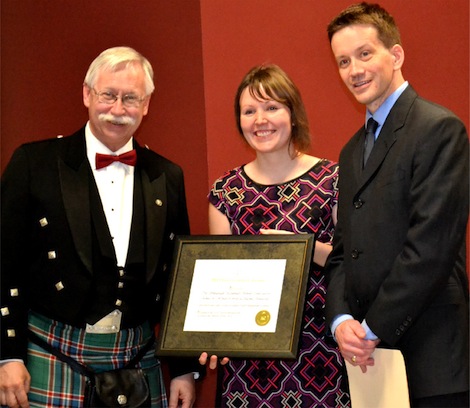 NEWS RELEASE

ALGOMA UNIVERSITY

****************************
Wishart Library and SRSC win prestigious AAO Institutional Award

SAULT STE. MARIE - Algoma University is pleased to announce that the Arthur A. Wishart Library and the Shingwauk Residential Schools Centre (SRSC) have received the prestigious 2013 Archives Association of Ontario's (AAO) Institutional Award for their integrated approach to the archival endeavour, archival science, and archival enterprise from 2010-12.

The AAO Institutional Award is given to an archival institution that has contributed significantly to the advancement of the archival field or community, or has demonstrated a significant level of innovation and imagination in the establishment of outstanding or model programmes or services.

Recognition may be granted for the individual programmes or projects of particular merit or for a program integrating many facets of archival enterprise.

From 2010-12, both the Wishart Library's university archives and SRSC underwent a process of professionalization, digitization, and expansion.

For example, over 25,000 file level descriptive records were identified and created; over 27,000 photos and texts were digitized and made available online; and over 270 Residential School Survivors were newly identified through the new digital archives platform, who had not been previously identified.

Irene Barbeau is a founding member of the Children of Shingwauk Alumni Association, Algoma University's partner in this joint initiative, and a member of the Centre's governing committee.

"We, the survivors, have had many wonderful allies and partners who have supported us in our work to promote 'sharing, healing, and learning' and the Centre is the culmination of the work we started almost four decades ago. We applaud the Centre and Library staff for their diligent work to continue to expand the capacity and capability of this unique survivor-led and focused education and research initiative," Barbeau said.

University Librarian and University Archivist Ken Hernden and Researcher/Curator with the SRSC Krista McCracken represented both institutions in Ottawa, Ontario on May 30 at the presentation ceremony.

"Krista and I were deeply honoured to accept the award on behalf of the many, many survivors, individuals and organizations who have worked for over 30 years on collecting the documents, photographs, oral histories, videos, and other materials the purposes of healing, sharing, and learning," said Hernden. "We continue to work with the Survivors, their children, and their children's children, combining activism with the documentary history to reach towards restorative justice for all Canadians."

Those comprising the project team from the Library include Hernden, E-Services Librarian Robin Isard, and Library Technologies Specialist Richard Scott.

The SRSC members include the survivors, Special Advisor and former Director professor Don Jackson, Research Coordinator Edward G. Sadowski, McCracken, and Digital Archives intern Michelle McMillan.

Co-operative Education students with both institutions include Tina Priest, Olivia Whetung, Robert Totime, Gilbert Totime, Travis Syrette, Cheryl Suggashie, and Amy di Nardò.

Other universities that have been awarded the AAO Institutional Award include Queen's University Archives (2012), the Ryerson University Gallery and Research Centre (School of Image Arts) and the Library and Archives Special Collections Program (2011), Clara Thomas Archives and Special Collections at York University Archives (2008), and the Trent University Archives (2003).

About Children of Shingwauk Alumni Association

The Children of Shingwauk Alumni Association (CSAA) was created following the first Residential School Reunion held at Algoma University in the summer of 1981.

The Shingwauk Residential Schools Centre (SRSC) was established as a joint initiative between Algoma University and the Children of Shingwauk Alumni Association.

It has a mission of sharing, healing, and learning.

The Shingwauk Residential Schools Centre has a national reputation as a leader in education about residential schools and hosts one of the most significant archival collections anywhere in relation to residential schools.

About Algoma University

Algoma University offers a wide variety of liberal arts and sciences degree options including programs in Psychology, Computer Science, Business Administration, Fine Arts, Community Economic and Social Development, and Biology in Sault Ste. Marie, Brampton, Timmins and St. Thomas.

As a partner with Shingwauk Kinoomaage Gamig, Algoma U is committed to respecting Anishinaabe knowledge and culture.

Algoma University has launched its Essential Elements Campaign to expand its campus and offer more scholarships and awards to students.

To learn more, visit www.algomau.ca.

****************************
Pictured from left: Dr. Brian Beaven, AAO Awards Committee chair; Krista McCracken, SRSC researcher/curator; and Ken Hernden, University librarian and archivist.

Photo by Julia Hendry, Wilfred Laurier University archivist.