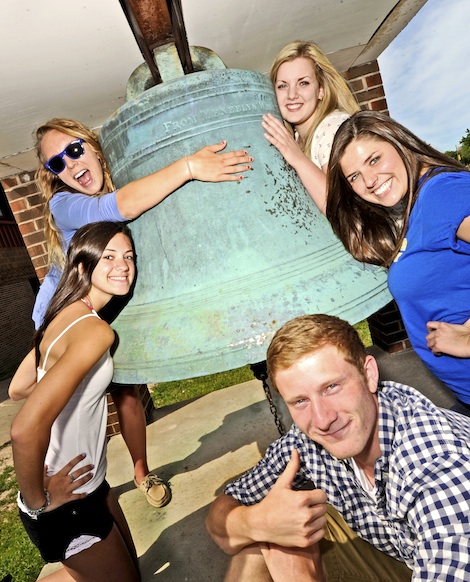 NEWS RELEASE
LAKE SUPERIOR STATE UNIVERSITY
*************************
Bell(es) in summer
Lake Superior State University students – joined by an emissary from Central Michigan University – give the Hoholik Victory Bell some attention on July 2 during its lonely summer sojourn.
The bell hangs outside the Norris Center in Sault Ste. Marie, MI.
After a home Laker hockey victory, the team doffs its skates, pulls on ski caps, and charges past throngs of hockey fans to sound the outdoor victory bell in subfreezing temperatures.
The custom was started soon after the bell was hung in early 1980s.
After the 1992-93 season the bell, which sustained extensive damage from the 1992 NCAA Championship celebration, was replaced with one from a West Troy, NY church.
Pictured clockwise from left are CMU student Lindsey Shaffer (Bridgeport, MI.), Helena Wollan (Sault Ste. Marie, MI), Caitlyn Schmitigal (Sault Ste. Marie, MI), Ciara Johnson (Peachtree City, GA), and Kyle Lester (Sault Ste. Marie, MI).
LSSU photo by John Shibley
*************************