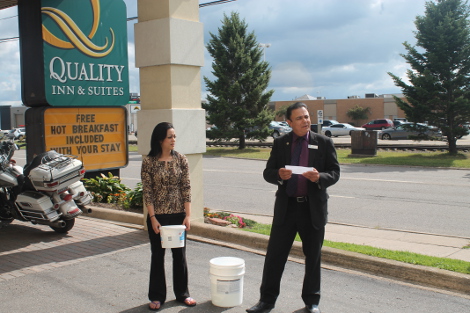 The ALS Ice Bucket Challenge, a wildly popular fundraiser which has swept North America, came to Sault Ste. Marie's Quality Inn & Suites on Bay Street Thursday afternoon.
The challenge dares a nominated participant to be filmed while having a bucket of ice water poured over his or her head.
Nominated people have 24 hours to brave the ice water and make a donation, or simply make a donation to the ALS Ice Bucket Challenge to raise funds to find a cure for ALS (Amyotrophic lateral sclerosis, or commonly known as "Lou Gehrig's Disease"), a progressive, fatal neurodegenerative disease.
Donations can be made online anytime.
The ALS Ice Bucket Challenge has raised $41 million worldwide.
Sara Cavaliere, Quality Inn sales and catering manager, pictured with Quality Inn's general manager Sunny Naqvi Thursday, raised approximately $300 in pledges to donate to the cause and was nominated by her co-workers Wednesday to take the challenge.
Naqvi said, as far as he knew, that Quality Inn is the first business in the Sault to get involved in the challenge.
In keeping with a common ALS Ice Bucket Challenge custom, Naqvi, speaking to SooToday.com, called on some notable others to take the challenge.
Those notable people are Sault Ste. Marie Mayor Debbie Amaroso, Karol Rains, Sault Community Career Centre executive director, Ian McMillan, Tourism Sault Ste. Marie executive director, and Tom Dodds, Sault Ste. Marie Economic Development Corporation chief executive officer.
As for how she felt after taking the challenge, and before going to towel off and put on some dry clothes, Sara told us "I feel cold, very cold, but I feel great that I was able to do this for a good cause."