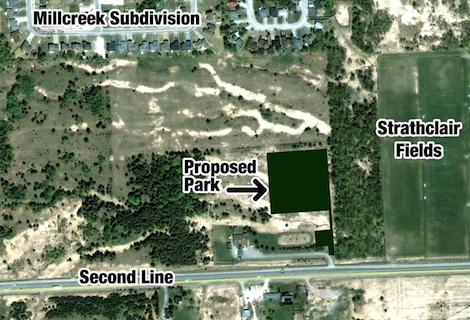 NEWS RELEASE
LEGAL OFF LEASH OWNERS GROUP OF SAULT STE. MARIE
*************************
Legal Off Leash Dog Owners Group of Sault Ste. Marie, Inc. (LOLDOGS)

Off-Leash Dog Park Could Be Approved by Council on Monday
After years of planning and discussion, at the December 3 council meeting, council is expected to be voting on a measure to approve funding for the construction of the city's first off-leash dog park which would be located on Second Line behind the Humane Society.

It is being recommended that the city approve a commitment of $45,000 from the parks reserve fund, with the remainder of the budget, some $25,000, to be raised through a number of fundraising efforts by the Legal Off Leash Dog Owners Group of Sault Ste. Marie (LOLDOGS).

LOLDOGS is an incorporated non-profit organization with a board of local dog owners, who have been working closely with the Parks and Recreation Advisory Committee over the past two years to develop a plan for the proposed park.

"We are pleased to hear that council may be approving our first off-leash park on Monday," said LOLDOGS vice chair Jake Cormier. "Our organization, along with the Parks and Recreation Advisory Committee and city staff have worked hard over the past two years to make Monday's council decision possible."

The proposed park would be located in the large open area behind the Humane Society on Second Line.
It would be about 3.5 acres in size, completely fenced in with separate areas for large and small dogs.
The site would be dotted with shade trees, benches, picnic tables and trash cans, and a source of drinking water for in the summer.

"We are making a commitment to the city that we'll be able to fundraise $25,000 within the next year," said Cormier. "We will need the support of every dog-loving resident and business in the city to reach our goal. It shouldn't take long ... there are about 22,000 dogs in the city, and at least half of families have at least one dog."

LOLDOGS plans a variety of fundraising initiatives, including business sponsorships, raffles, donation jars, memorial benches and trees, memorial donations, and advertising.

Off-leash dog areas, or dog parks, provide a community setting in which people can gather and socialize and where they can observe the interaction of groups of dogs at play.
Dog parks not only allow owners and their dogs to spend time together, but also offer dogs a space for play and companionship with other dogs.
Because leashed walks and other confined exercise can cause dogs to become territorial or poorly socialized, spending time off-leash in a park is quite beneficial for a dog and its owner.
Dog parks promote responsible pet ownership and the enforcement of dog-control laws; give dogs a place to exercise and burn off pent-up energy, thus reducing barking and other problem behaviours; provide seniors and disabled owners with an accessible place to exercise their companions; and provide an area for community-building socializing.

LOLDOGS is asking all interested dog owners to attend the council meeting on Monday, December 3 at 4:30 p.m.
A large show of support from dog owners will send the message to council that there is a huge potential user base and demand for an off leash park, and that our cause is one that the city should embrace.

"This project has been a long time coming," said Cormier. "The vast majority of cities in Canada have at least one dog park. Some have dozens. Dog parks have become a very common facility offered by municipalities, and we feel the time is now for Sault Ste. Marie. Our organization is ready to hit the ground running, and have the utmost confidence in our community to help us reach our fundraising goals. We hope council makes the right decision on Monday, which will get thousands of tails wagging across the city!"

Fast facts

Background
The Legal Off Leash Dog Owners Group of Sault Ste. Marie (LOLDOGS) was incorporated as a non-profit in November 2010.
The current board of directors consists of Beth Eady, chair; Jake Cormier, vice chair; Linda Bassanello, treasurer; and Robert McCutcheon, secretary.

Website

Facebook
**************************