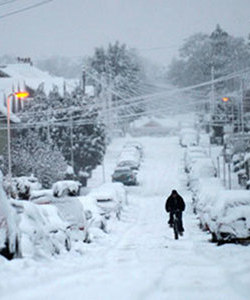 ENVIRONMENT CANADA
SPECIAL WEATHER STATEMENT
*************************
SPECIAL WEATHER STATEMENT FOR: CITY OF THUNDER BAY - KENORA - NESTOR FALLS - DRYDEN - IGNACE - FORT FRANCES - RAINY LAKE - ATIKOKAN - UPSALA - QUETICO - SUPERIOR WEST - RED LAKE - EAR FALLS - SIOUX LOOKOUT - SAVANT LAKE - LAKE NIPIGON - WABAKIMI - GERALDTON - MANITOUWADGE - HORNEPAYNE - NIPIGON - MARATHON - SUPERIOR NORTH - WAWA - WHITE RIVER - PUKASKWA - SAULT STE. MARIE - SUPERIOR EAST - KAPUSKASING - HEARST - TIMMINS - COCHRANE - GREATER SUDBURY AND VICINITY - CHAPLEAU - GOGAMA - KIRKLAND LAKE - NEW LISKEARD - TEMAGAMI - ELLIOT LAKE - RANGER LAKE - MANITOULIN - BLIND RIVER KILLARNEY - NORTH BAY - WEST NIPISSING.
A COLORADO LOW WILL GIVE A SHOT OF SNOW TO NORTHERN ONTARIO TONIGHT INTO MONDAY, WITH A CHANGEOVER TO FREEZING RAIN AND RAIN FOR PARTS OF NORTHEASTERN ONTARIO.

A LOW PRESSURE SYSTEM OVER SOUTHERN MINNESOTA WILL CROSS THE UPPER GREAT LAKES AND REACH NORTHEASTERN ONTARIO MONDAY.
SNOW FROM THIS SYSTEM HAS SPREAD INTO NORTHWESTERN ONTARIO AND WILL SPREAD FAIRLY QUICKLY TO THE REST OF NORTHERN ONTARIO LATER THIS EVENING.
TOTAL SNOWFALLS OF 10 TO 15 CM ARE EXPECTED BY MONDAY MORNING OVER MUCH OF NORTHWESTERN ONTARIO AND BY MONDAY EVENING OVER NORTHEASTERN ONTARIO.
THIS IS JUST SHY OF THE SNOWFALL WARNING CRITERION OF 15 CM PER 12 HOURS.
HOWEVER SHOULD THE LOW BE A LITTLE MORE INTENSE THAN CURRENTLY EXPECTED, SNOWFALL WARNINGS MAY BE ISSUED TONIGHT.
OVER LOCALES NEAR AND SOUTH OF A LINE FROM WAWA TO KIRKLAND LAKE, MILD AIR FROM THE SOUTH WILL TRY TO PAY A SHORT VISIT OVERNIGHT INTO MONDAY.
AS A RESULT, A FREEZING RAIN WARNING IS NOW IN EFFECT FOR REGIONS FROM SAULT STE MARIE THROUGH SUDBURY INTO THE NORTH BAY REGION.
TRAVELLING CONDITIONS ARE EXPECTED TO DETERIORATE BEGINNING THIS EVENING AS THE SNOW ARRIVES. LOW VISIBILITY IN AREAS OF HEAVIER SNOW AND ACCUMULATING SNOW ON UNTREATED HIGHWAYS WILL MAKE DRIVING CONDITIONS DIFFICULT. MOTORISTS SHOULD ALLOW EXTRA TIME TO REACH THEIR DESTINATION.
PLEASE MONITOR THE LATEST FORECASTS AND WARNINGS FROM ENVIRONMENT CANADA AT
WWW.WEATHEROFFICE.GC.CA
.
*************************