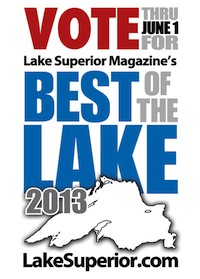 NEWS RELEASE
LAKE SUPERIOR MAGAZINE
*************************
Get out the vote for Lake Superior Magazine's 2013 Best of the Lake awards

For more than two decades, readers of Lake Superior Magazine have shared their favorite spots, sights, restaurants, lodgings and recreation for the Best of the Lake awards.
This year, we're at it again.

We encourage communities to stuff the ballot box with local favorites in categories like Best Shoreline, Best Locally Made Brew and more.
Vote online or send the pull-out ballot in the April/May issue of the magazine, on newsstands now.

"We know how much our past winners have taken pride in earning their Best of the Lake award," says Editor Konnie LeMay. "We're anxiously waiting to see who and what our winners are for this year."

Local residents, regular visitors and far-flung lakegoers – anyone who loves the lake and its environs can vote.
Ballots for the Best of the Lake 2013 will be accepted through June 1.

For Web producers: We've created a graphic for use on the web.
We recommend you link directly from the graphic.
If you need the HTML, copy and paste from this Github Gist.
Many categories are new, including great-outdoors entries like Best Shoreline, Best Strolling Beach, Best Place for a Day Outside and Best On-the-Water Experience.
There are also categories for places to eat, to stay overnight and to shop for gifts and smoked fish.
Each category includes all three states and the province – a vote for each shore.

Winners will be announced in the August/September issue of Lake Superior Magazine.
Each winner receives an award certificate and a special badge for the web.

Lake Superior Magazine is a family-owned publication with offices and an outlet store located at 310 E. Superior St. in Duluth, MN.
Contact: 888-BIG LAKE (888-244-5253) or locally at 218-722-5002, or at this website.
Find us on Facebook and Twitter.
*************************