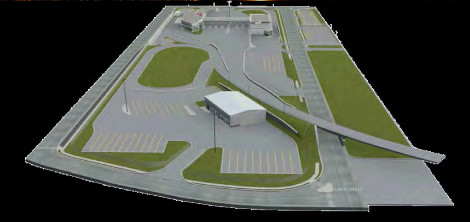 Construction of a new Canadian bridge plaza that remained stuck in neutral well past its original completion date is now in "full gear" according to a senior spokesperson for the Federal Bridge Corporation.
Andre Girard, senior vice president communications for the FBCL, which oversees the project, confirmed the plaza is targeted for completion by the spring of 2017, and that construction would start to amp up this spring.
The new plaza was publicly announced by Prime Minister Stephen Harper during a visit to the Sault in early Sept. 2009.
Completion of the $44.1 million project was targeted for April 1, 2014.
The contract for the architectural design of the project was awarded to EPOH, Inc. a Sault Ste. Marie-based architectural and engineering firm, in late 2009.
A media release at that time said the new plaza, when completed in 2014, would include: seven primary inspection lanes comprising four passenger lanes, two bi-level lanes for cars and trucks, and one truck lane; a bus inspection area; new traffic and commercial facilities; widening of the bridge approach ramp; new infrastructure to support NEXUS and the Free and Secure Trade (FAST) frequent traveler programs; and a new building to house brokerage operations and a duty free shop.
A startup hit a stumbling block, however, after a handful of disgruntled owners of nine properties on Albert and Hudson streets declined offers they said were well below market value.
They hired the Toronto law firm, Borden Ladner Gervais LLP, in early 2011 to represent them in negotiations.
The stalemate ended in late Oct. 2012 when a mediated settlement was reached for the purchase of all but one of the nine properties.
The final property was acquired separately early in 2013, clearing the way for demolition to begin in June, 2013.
That contract was awarded to Cy Rheault Construction Ltd. of Timmins, Ont..
Girard said the final demolition of the remaining properties is done.
"I spoke with an engineer this morning, and demolition is over now except for the existing duty free store and maintenance building," he said in a phone interview from Ottawa Tuesday.
A $10.9-million contract for the second phase of the plaza redevelopment was awarded by the St. Mary's River Bridge Company, a subsidiary of the FBCL, to George Stone and Sons Ltd. of Sault Ste. Marie in Nov. 2013.
The contract includes construction of a new Duty Free Shop and maintenance garage, as well as the ramp widening and other related civil works.
Micheline Dube, president and CEO of the SMRBC was quoted saying in a Nov. 8, 2013 article in Northern Ontario Business: "A key highlight in this phase of the project will be the widening and connection of the plaza ramp to Carmen's Way, which will greatly improve the flow of commercial and general traffic at the plaza."
That work is underway and will continue throughout the summer, Girard said.
He added that the expectation was by late summer and fall, construction would begin on the new Canada Border Service Agency facilities.
Because of the lengthy delay that kept construction in limbo for three years, City officials and Sault MP Bryan Hayes expressed concerns the plaza would be downsized.
Mayor Debbie Amaraso and Joe Fratesi, the city's chief administrative officer, both emphasized the importance of truck access to the International Bridge from Carmen's Way as a key feature of the original plan that must remain.
Amaroso told Sault This Week (Sept. 25, 2012), "The city is firm on our wishes that the original plan is the go-forward plan. There have been commitments made, and it is imperative for this project to happen in its original form. We went to great expense to build Carmen's Way with this in mind."
In the same article, Fratesi had said, "In our most recent meetings, we made it clear we built Carmen's Way based on the preferred design in mind. That's what we hope and expect."
On that subject, Girard said this week, "Nothing will be modified or changed that I know, although there were rumours about all kinds of things. Everything has fallen into place."
He did acknowledge, however, that there could be "minor adjustments" to the plans here and there.
"I see that in Cornwall where they just built a new bridge. But the project [in the Sault] is in full gear right now."
Girard added that the FBCL has created a blog site that residents can access as construction amps up this spring and summer for frequent updates on construction and for travel advisories.
Residents and bridge travelers can access that information at www.ssmbridge.ca.
Meanwhile, the FBCL and Federal government are remaining tight lipped about what the final cost of the bridge plaza redevelopment may be now considering the delayed construction, although Hayes had speculated in the local media that the original $44.1 million total may escalate above $50 million.