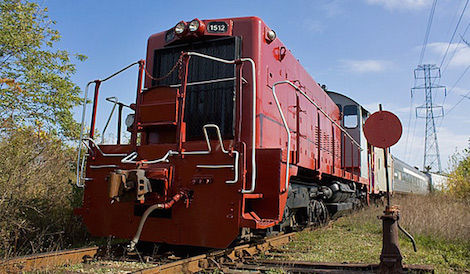 While all parties involved still hope for a positive outcome, stakeholders in the Sault Ste. Marie to Hearst passenger rail service have offered their opinion as to what will happen if Railmark Canada fails to live up to all the pre-conditions involved in their running the service.
"I could not recommend to city council that they proceed with him (Railmark president and CEO B. Allen Brown) as the proponent for the railway if he is unable to demonstrate he has sufficient financial resources (a line of credit) to operate it," said Tom Dodds, Sault Ste. Marie EDC CEO, speaking to SooToday.
Dodds is also chair of the passenger service stakeholders working group.
It was announced March 31 the federal government (Transport Canada) agreed to provide $5.3 million in funding to Railmark over the next three years to keep the Sault to Hearst passenger rail service running, with the hope the company can turn the passenger rail service into a self-sustaining, enhanced rail experience for tourists.
If Railmark is removed from the picture, what would happen to that $5.3 million in funding?
"My hope would be there would be an opportunity to find an alternative third party operator but that's entirely up to the minister (Lisa Raitt, transport minister)," Dodds said.
"What they (Transport Canada) have indicated is patience with us and willingness to continue to work with us as we go through this exercise with Railmark."
Railmark Canada has been able to obtain required insurance and rail operating certificates.
Dodds told SooToday he is still hopeful Railmark will come through with a line of credit by the June 22 city council meeting.
"I would anticipate the ball would be back in CN's court," said Sault MP Bryan Hayes in regards to what would happen to the $5.3 million in federal government funding if Railmark doesn't come through with a line of credit.
"If Railmark, for some reason, can't fulfill its obligation, then the city doesn't sign (a final agreement), and one would think this whole relationship would be null and void and then it falls back on whether or not CN would continue to run the passenger service while we look for another third party operator."
The money will still be there, Hayes said.
"I believe it would be because it is budgeted, but that money was based on (Railmark's) business case."
"If there's going to be a change in third party ownership the government will have to do some more due diligence, but the money is budgeted," Hayes said.
"Ultimate approval rests with the Minister of Transport but I'll fight equally hard for whoever the operator is."
A Transport Canada spokesperson, in an email response to SooToday, stated "the Government of Canada approved a 3-year, $5.3 million commitment to the City of Sault Ste. Marie for the operation of the passenger rail service between Sault Ste. Marie and Hearst, Ontario."
"This approval in principle was based on a request for funding and supporting documentation provided by the City of Sault Ste. Marie. The City of Sault Ste. Marie continues to work toward concluding its negotiations with Railmark Canada."
CN previously operated the service with $2.2 million in federal funding.
Under the new arrangement, the city of Sault Ste. Marie will find itself handling the federal financing for Railmark, and members of city council are now expressing concerns Railmark may not live up to all the necessary pre-conditions.
Because Railmark has not yet secured a line of credit, city council has expressed its concern over signing a final agreement with the company, with a sense of apprehension the city may be on the hook for costs that may arise.
(PHOTO: SooToday file photo)