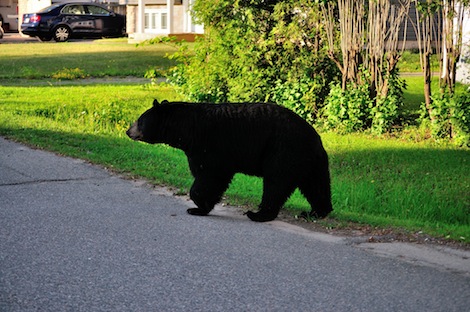 This is one provincial government program which clearly has its supporters and opponents.
It's the Liberal government's bear management plan, designed to protect the public from extremely dangerous encounters with bears.
It is a two-year pilot program, announced November 14, 2013 by David Orazietti, incumbent Sault Liberal MPP and Minister of Natural Resources, which allows hunters to take part in a limited early bear hunting season in and around communities that have experienced high levels of problem bear activity, including Sault Ste. Marie and seven other specific areas in Ontario.
SooToday.com spoke with each of the three main party candidates running for MPP in the Sault Ste. Marie riding in the June 12 provincial election in regards to the program.
Orazietti issued a press release concerning the program, but we also spoke with him this week by telephone for his thoughts on the bear hunt.
Orazietti said the MNR does not have a specific, target number of bears to shoot this spring or next.
"We have a very strong and robust number of black bears in the province, we have 100,000 black bears," Orazietti said, adding the government wants that population to remain robust but that clearly, that number needs to be trimmed.
"We've allocated tags in certain areas and we're going to be monitoring how many bears will be taken, we've issued around 4,500 to 5,000 tags for this hunt, a relatively small number in terms of the bear population."
Orazietti emphasized it will remain illegal to hunt a female bear or a female bear with cubs.
Taking a swing at his political opposition, Orazietti criticized the Progressive Conservatives for "irresponsibly" ending the annual spring bear hunt when they governed Ontario, and said he has not fielded one question in the Legislature from the PCs and the NDP since announcing the hunt in November 2013.
"The silence is deafening…I think we've struck the right balance," Orazietti said.
"(The PC end to the annual hunt) was a wrong-headed decision then and it's a wrong-headed decision now."
Orazietti has gone on record as saying the Liberal government's trap and relocation program in regards to dealing with nuisance bears has proven to be costly and mostly ineffective.
Orazietti also slammed criticism from animal rights groups, which condemn the bear hunt as animal cruelty.
"We should not have policy dictated to us by Toronto-based special interest groups."
Orazietti said if he is re-elected June 12 and still serving as Minister of Natural Resources, he and his staff will be monitoring the numbers of bears shot and evaluating the success of the program.
Would Orazietti favour permanent, annual re-instatement of the spring bear hunt?
While stopping short of saying 'yes,' Orazietti said "I think we should involve all communities that want to participate (in the hunt) in a way that sustains the bear population in Ontario…and I do support expansion of this program to other communities where they have public safety concerns."
Celia Ross, NDP candidate, said "we are certainly aware that there are a lot more human-bear encounters recently, and the NDP in the past introduced a motion to create an all-party committee to devise a strategy around bear management but the Liberals decided instead to unilaterally change the regulations, in too hasty a manner, to introduce a bear hunt in selected communities only."
"We feel there hasn't been enough study to see if the hunt is the right solution to the problem," Ross said.
Ross said she and her fellow New Democrats disagree with cutbacks in funding to the trap and relocate program.
"Our official stance is that we need more science, an all-party committee in the Legislature to look at the issue of bears and humans coming into contact in northern Ontario, and come up with a reasoned solution to this program."
While opposed to the bear hunt, Ross said she respects the assurances, given to her by hunters she has spoken to during this election campaign, that they will not shoot female bears and their cubs.
Rod Fremlin, Progressive Conservative candidate, said "(the bear hunt) is a good idea, but doesn't go far enough."
"When they (the former PC government) shut down the annual spring bear hunt, it mattered to Ontarians, but it's the American hunters that love shooting bears, so when they shut it down they had to go to Manitoba and Quebec so we lost all that revenue from when they were shooting bears here."
"We're on a border town and I was talking to an outfitter who told me Americans would come in and he would sell up to 800 licenses."
"That's a loss of revenue for the government and the tourism industry…it's a no-brainer, bring the annual spring bear hunt back."
When reminded it was a Progressive Conservative government that did away with the annual bear hunt, Fremlin said "women weren't allowed to vote at one time…things change as time goes on, and now we're overrun with bears."
"I don't want to slaughter every bear, but for the time being it wouldn't be a bad thing to bring it (the annual hunt) back," Fremlin said.
City councils in northern Ontario communities, including Sault Ste. Marie, have chosen to opt into the program.
"Municipalities have been supportive of this and we have nearly 50 resolutions passed by communities in northern Ontario requesting to be part of this program," Orazietti said.
The pilot program began May 1 this year and runs to June 15, and will run for the same time period in 2015.
Criticism of the program notwithstanding, it seems logical and timely, as there has been a slew of bear sightings in or around Sault Ste. Marie neighbourhoods in the past several days.