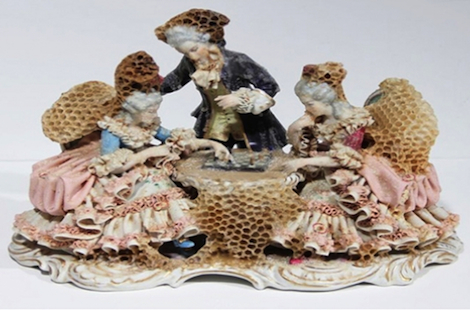 SooToday.com, in partnership with Tourism Sault Ste. Marie, brings you a weekend feature highlighting the variety of adventures available for you, your family, and visiting relatives right in our own backyard.

This week we invite you to explore the Art Gallery of Algoma and the exhibit Surreal Transformations.

Surreal Transformations: The Art Gallery of Algoma As a Buzz With Activity This Summer!

The Art Gallery of Algoma is pleased to present the work of Aganetha Dyck and Richard Dyck in its summer exhibition Surreal Transformations.

Aganetha Dyck is a Canadian artist whose sculptural body of work is made from familiar items such as cigarettes, wool sweaters, crocheted toques and buttons which can be read as a 'domestic critique and a material history of post-war feminism'.

Since the early 1990's Dyck, aided by partner and apiary assistant Peter, has created hundreds of sculptures with honeybees by placing into commercial beehives found and handmade objects.

The bees, having adjusted to the presence of the inserted item, continue their everyday routines by collecting and making honey and building their hive around the newly placed object.

The result is the production of stunning, uncanny objects that have been altered by the bees.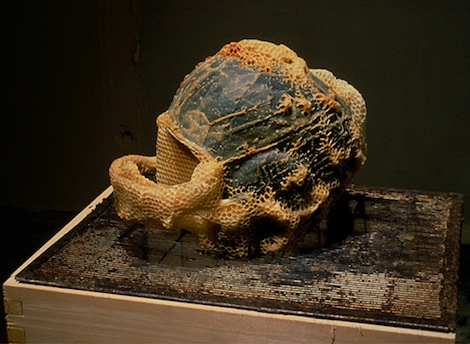 Some of the bee-altered items include hockey equipment, hand-made dresses, women's shoes and porcelain figurines in 18th century dress that have been surrealistically transformed making items that are common place refreshingly new and exciting.

Aganetha openly confesses that "the bees do most of the work" and that she is a happy collaborator.

Read more
********************************
More Weekend Trippin' articles:
Christopher's Big Birding Year
Liquid gold and where to get it
Appreciation, preservation, conservation
The trip is sometimes the best destination
Ice climbing is the new rock climbing
Great lineup for Shadows film fest
Perch derby is great fun for kids
Past dreams are reality at Stokely Creek
Dedication to our accommodation
A luxurious look at the inside
A winter wonderland what's good for your health
The edge between earth and water
Best gal pal weekend getaway ever on Oct 18th
Your own personal tour guide takes you down some of the Sault's most picturesque cycling routes
Vin Greco takes you for a walk on the fairway with wine
39 Years in the Ultimate Window Seat: A Train Engineer Describes Life on Ontario's Most Beautiful Line
The Ultimate Caboose Camping Experience
Time Stops In Frontier Village