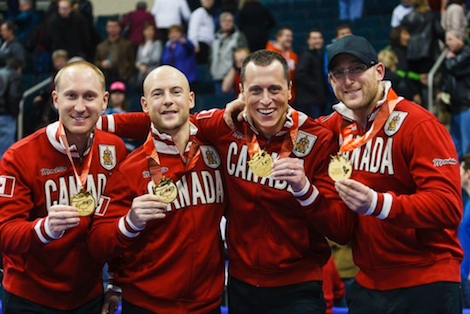 Haven't met the guys from Team Jacobs yet?
Here's your chance to both meet and greet our very own Olympic-gold-medal-winning curlers.
SooToday.com, LOCAL2.ca, Riversedge Developments and Mill Market chipped in and 'bought' the team for the day as part of a fundraiser to help the boys bring their families along for the 2014 Sochi Olympics.
So, on Saturday we're inviting you to come out and meet them and get their autographs at several locations throughout the day.
Brad Jacobs, Ryan Fry, E.J. Harnden and Ryan Harnden will start the day off with a trip to the newly-opened Mill Market at the former muncipal fish hatchery.
The 2013 Brier winners will be there from 8-10 a.m., after which they will pop over to Wacky Wings on Great Northern Road for lunch from 11:30-12:30 p.m.
Then it's back to Mill Market and Lily And Claudia's Ice Cream Shoppe, where the team will scoop ice cream from 1-2:15 p.m.
From 2:30-3:30 p.m., Brad, Ryan, E.J. and Ryan will park themselves at the Art Gallery of Algoma's Family Day event, and then at 4 p.m., they will make an appearance at Eat Algoma Local Food Festival on Queen Street between East and Brock.