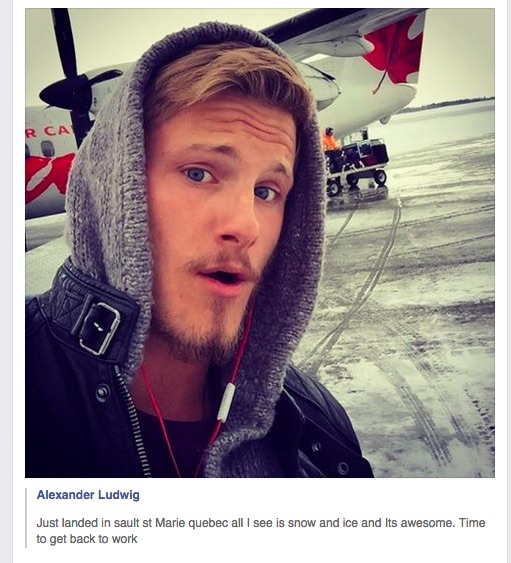 We can't imagine why the guy who plays Bjorn Lothbrok on the super popular History show Vikings might be in Sault Ste. Marie.
But that's totally him taking a selfie at our very own airport yesterday.
And Alexander Ludwig advises his social media followers he's about to "get back to work."
By the way, in what we can only assume is totally unrelated news, History and Shaw announced today that Vikings has been green-lit for a fourth season.
Huh.
Oh, and before you stop Mr. Ludwig on the street and get all up in his face about not knowing what province he's in (see caption above), the Vancouver native has since duly noted his error.
The press release follows:
*************************
NEW YORK/TORONTO – HISTORY® announced today that it has picked up a fourth season of its hit scripted series Vikings, created and written by Michael Hirst (The Tudors, Elizabeth).
Five new episodes remain in the current season airing Thursdays at 10pm ET/PT with the season finale slated for Thursday, April 23rd at 10pm ET/PT.
The first four episodes of season three took viewers by storm, averaging 895,000 (A2+), 428,000 (A25-54) and 375,000 (A18-49), making the new season of Vikings the #1 specialty drama on Thursday nights in all key demos*.
Vikings has been the #1 specialty drama since its inaugural season premiere in 2013** and this year earned four Canadian Screen Awards including Best International Drama.
Production on season four will begin this spring in Ireland.
"Five weeks in and still topping the charts as Canada's number one specialty drama, Vikingshas cemented HISTORY firmly in the scripted series genre and we're thrilled to be picking it up for a new season," said Christine Shipton, Senior Vice President of Content, Shaw Media. "Backed by strong Canadian representation among both cast and crew, Vikings is one of the most compelling, visually stunning dramas on television today and we can't wait to bring it back."
Vikings tells the extraordinary tales of the lives and epic adventures of these warriors and portrays life in the Dark Ages through the eyes of Viking society.
The gripping family saga of Ragnar (Travis Fimmel), Rollo (Clive Standen), Lagertha (Canadian Katheryn Winnick) and Bjorn (Canadian Alexander Ludwig) continues in season three as alliances and loyal friendships are questioned, faith is catechized and relationships are strained.
Created and written by Michael Hirst – one of the premier historical story-tellers in the industry (Academy-Award winning film Elizabeth; and the Emmy and Golden Globe nominated seriesThe Tudors), Michael serves as Executive Producer along with Morgan O'Sullivan of World 2000 (The Count of Monte Cristo; The Tudors), Sheila Hockin (The Tudors; The Borgias), John Weber of Take 5 Productions (The Tudors; The Borgias), Sherry Marsh, Alan Gasmer and James Flynn (The Tudors; The Borgias).
Vikings is an international Irish/Canadian co-production being co-produced by World 2000 and Take 5 Productions.
HISTORY broadcasts both domestically in Canada and in the U.S. MGM Television is the worldwide distributor outside of Ireland and Canada.
Vikings is produced in association with Shaw Media.
Fans who missed the first four episodes of the third season of Vikings can catch up on History.ca and the HISTORY Go App.
The first two seasons of Vikings are available on shomi.
**************************