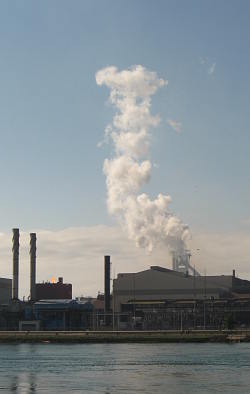 A union leader says work has halted on a Minnesota taconite facility eventually slated to supply Essar Steel Algoma.
A union leader has confirmed contractors have shutdown construction at the site of Essar Steel Minnesota's new taconite facility on Minnesota's Mesabi Iron Range.
The new taconite facility is the first to be constructed in decades on the Mesabi Iron Range, and has a contract with the company's Sault operation to begin delivering taconite pellets beginning in 2017.
Dan Kingsley, a representative for Local 49 Operating Engineers in Minnesota, said last week that work on the taconite plant has been at almost a complete standstill for about three weeks.
"Hammerlund Construction, out of Grand Rapids (Minn.), have filed three liens on the company totaling about $9 million," Kingsley said. "Just recently, Industrial Maintenance Services have filed a lien for nearly $4 million."
There are a number of other smaller contractors who are not being paid also, although Kingsley said he was not sure if they had filed liens.
He added that as of March 28, IMS was in the final stage of dismantling all their equipment and leaving the site.
"There is one operator left out there, otherwise everybody else is gone."
Essar is saying they are working on completing the financing packages, and that they are getting very close, according to Kingsley.
"They were in negotiations with both construction companies last week to try to get them back on the project, but that has not come to fruition."
Essar Steel Algoma has not replied to a recent question from SooToday.com about what possible effect the current construction delay might have on its taconite pellet contract.
ESAI had, however, extended its contract for iron ore pellets with Cliffs Natural Resources until 2024.
That contract had been set to expire in 2016.
Brenda Stenta, manager of corporate communications for Essar Steel Algoma, told Sault This Week in October that the timeline for completion of the Minnesota taconite plant should not affect the Sault steelmaker since its contract to begin receiving iron ore pellets from Essar Steel Minnesota did not start until 2017.
In that same article, she is quoted as saying that a confidentiality agreement with Cliffs prevented ESA from divulging details about the ratio of iron ore pellets the local plant would receive from Cliffs and ESM when that contract begins.
Kinglsey said when the last work stoppage happened in the fall of 2013, the contractors went back to work again with the promise of a payment schedule being set up.
"Obviously, the Essar Group didn't follow through with the agreements they made, or the contractors would still be out there working," he said.
Kingsley said it was very unlikely the taconite pellet facility would reach its goal of full production in 2015, unless construction work resumed soon.
"Late 2015 is remotely possible if the stalemate is ended right away," he said. "I think the completion target keeps getting further away."

He estimated about 20 percent of work on the actual taconite plant was completed - a point of disagreement with ESML.
"Maybe 20 percent of that type of work is done, but even that is a stretch," he said last week.
In a Sault This Week article in October, Tom Anzelc, Minnesota state government representative for the area, charged that ESML officials had claimed 64 percent of the project was done, a claim he characterized as "inconceivable".
ESML also had signed a 10-year agreement with ArcelorMittal U.S. on Feb. 11, 2013 to provide the steelmaking giant with 3.5-million tonnes of standard and fluxed iron ore pellets annually beginning in the second half of 2014, before ESML acknowledged they would not be producing pellets at their unfinished Minnesota facility until 2015.
What happens to that contract has not been answered by Essar, but Kingsley said, "The contract with Arcelor isn't going to happen as far as I can see."
Meanwhile, Lee Schafer, a business reporter for the Minneapolis Star Tribune, wrote in a March 14 article that the multinational Essar Group, headquartered in Mumbai India, had been singled out in two recent reports by Credit Suisse as among ten Indian companies facing serious financial woes because of increasing debt loads and a sharp decline in the Indian economy and falling currency value.
Credit Suisse Group AG is a Switzerland-based multinational financial services' holding company headquartered in Zürich that operates the Credit Suisse Bank.
In two reports, titled House of Debt and House of Debt Revisited, published in 2012 and 2013 respectively, they described bleak pictures for ten Indian multinationals, including Essar Group, because of their escalating debt load and interest rates, compounded by the falling value of the Indian rupee.
In the first Credit Suisse report, dated Aug. 2, 2012, its authors wrote: "The aggregate debt of these ten groups [including Essar] has jumped five times in the past five years, and now equates to 13 percent of bank loans, and 98 percent of the system's net worth."
"Given the high leverage, poor profitability and pressure from lenders, most of these debt heavy groups have initiated plans to divest some of their assets," the same report added.
In its followup report, the situation had not improved for the ten Indian multinationals, according to Credit Suisse.
Aggregate debt for the ten companies had grown by an average of 15 percent over the year.
The Essar Group was reported to be facing a 15-percent increase in its debt load for 2013.
The report described 2014 as a "year of reckoning" for all ten companies, including Essar Group, as they prepare to commission more than 13,000 megawatts of power that Credit Suisse called "critical".
Essar Group has a small share of that potential market with 390 MW. scheduled to come online.
What effect Essar Group's financial problems, according to the Credit Suisse studies, might be having on the multinational's North American operations, including Essar Steel Algoma, remains unanswered.
In a March 24, 2014 SooToday.com article, the local steelmaker acknowledged that it was struggling with some cash flow problems stemming from the slow recovery of the steel market and other factors.
"Fiscal 2014 has been a tough year. The Company continues to prioritize and make payment to suppliers, granted, not at a rate that they or we would want. We are looking to improve upon our terms as soon as refinancing can be secured," said Brenda Stenta, manager of corporate communications.
At the time, Stenta said Essar also was pursuing refinancing options to increase its cash flow liquidity, and reduce its interest expenses.
Regarding the Minnesota taconite project, Essar Group had bought mining rights from Minnesota Steel Industries in April 2007 for an estimated $1.6 billion U.S., shortly after its purchase of Algoma Steel for $1.63 billion.
The project, located on the northeastern Mesabi Iron Range, has iron ore reserves estimated at more than two billion metric tons, which were expected to supply the pellet needs for its Sault steel mill when completed.
While ground breaking at the Nashwauk site occurred in 2008, actual construction did not get rolling until 2011.
The project was first targeted for completion in 2013.
That was later changed to 2014, after Essar decided to seek additional financing of an estimated $600 million to expand production from four million metric tonnes to over seven million metric tonnes annually.
Since then, several work stoppages by contractors have pushed the completion target date back further.