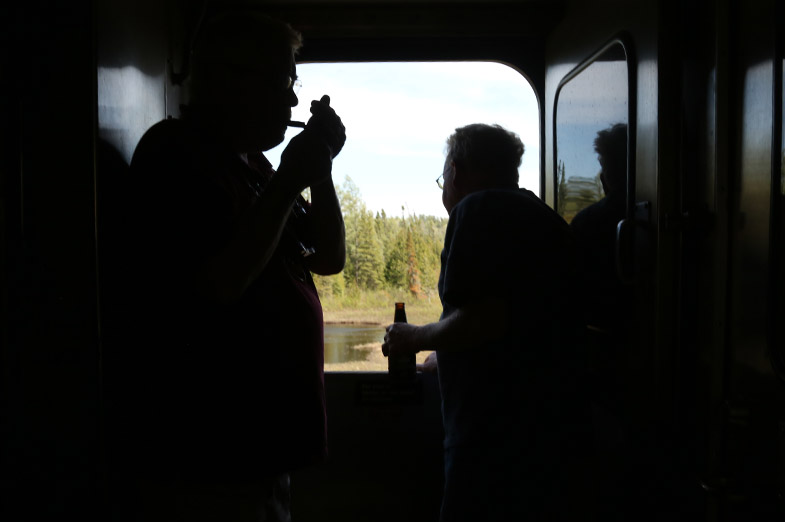 A rail expert from London, England who recently took a trip on the Algoma Central Railway (ACR) says the experience was unlike any other and is worth preserving.
"It was like the way you imagine it was in the olden days, and you certainly want to protect that while you can," said Liam Henderson, a transport planner who is accustomed to working on rail lines that accommodate 1 million riders per day.
"I wanted to go there to see, once you take away the million people a day and strip away the requirements to pump those people through a system, what is the bare bones of providing a service that doesn't have any capacity problems, station problems, lighting problems, or anything else," Henderson said.
While in Toronto for a conference earlier this year, Henderson heard about the ACR and wanted to experience it for himself.
"The website didn't fill me with confidence that it was still running and no one in Toronto knew about it," he said.
Henderson planned his own excursion to Sault Ste. Marie and was to take the ACR as far as Dubreuilville, stay the night and take a VIA train back to Sudbury the next day.
The first thing that struck Henderson when he arrived at the CN rail yard to board the train was that there was no station and much of the front office staff he spoke to had never been on the train.
"They were there at the start to shake hands but then got off. How do you sell the experience if you've never been on it?" he asked.
Henderson embarked on a train trip unlike any he had been on before, through the Northern Ontario wilderness with passengers getting off the train at various mile markers and then disappearing into the woods.
"Sitting on a train for eight hours with no wi-fi and no power, you end up staring out the window and imagining who built the line and who used to live in these communities," he said.
During some portions of the journey, Henderson and his travel companion were the only passengers on the entire train.
He was amazed that as a passenger he could stick his head out the side of the train in the vestibule between cars, something he couldn't image doing in the UK.
"A lot of people would have a romantic idea about these sorts of trains," Henderson said, adding, "All these things are unique to this train. You can package and sell that."
Upon arriving in Dubreuilville, Henderson expected to be dropped off at a station.
Instead he was dropped off at a level crossing where staff from the hotel were waiting to pick him up.
Henderson then expected to take the VIA Rail train back to Sudbury the next day, but after waiting hours for the train he found out the service was not running that day, as expected.
Had he not checked in through his smartphone, he may never have known — something the rail expert did not expect, being used to the efficient UK rail.
So Henderson managed to flag down the ACR train on its way back to Sault Ste. Marie as a plan B.
"I would say the weirdest experience was standing at the track in Dubreuilville, hoping a train would come at some point," Henderson said.
Henderson said he would recommend a ride on the ACR, as the experience was so unlike anything he had experienced before.
"If someone planned me a three day journey where I went up on the train, had two nights in a nice hotel, maybe did some ATV rides and then took another train back to Sudbury, and all I had to do was sign a cheque, I'd do it," he said.
Were he in charge, Henderson said he would market the train as a package with wilderness lodges and focus on selling to businesspeople.
"You need those people to come up. There's a whole business climate of attracting people to come up and take this old-fashioned romantic rail trip up to a lodge in the middle of nowhere where no one can call them on their cell phone."
He added, "I would say do it now because I would be afraid it would stop at some point. Ride it while you can."
You can read more on Henderson's experience by reading his blog post about the trip.
(FILE PHOTO: Kenneth Armstrong/SooToday)