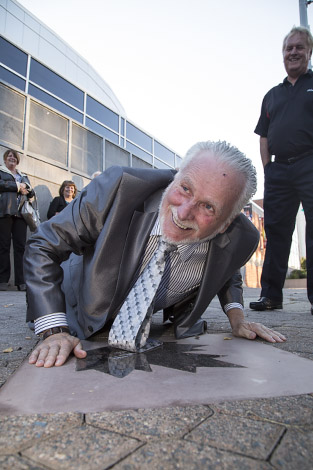 Asked if he had been told a year ago that he would be honoured with a marker on the Walk of Fame, Mac Marcoux said, "Not a chance, I wouldn't have expected this for a million years."

Mac was at Essar Centre on Thursday evening for a ceremony inducting himself and his brother, along with retired newspaper man Les Payette, into the Sault Ste. Marie Walk of Fame.

Mac and his brother B.J. share a sidewalk marker in honour of their achievements in the 2013 World Championships and 2014 Paralympic Games in Sochi.

"It's pretty sweet," said Mac about the honour.

Marcoux has been training all summer in Whistler, BC and New Zealand and is leaving for Switzerland later this month.

His brother B.J. was not able to attend the ceremony but Mac said he hopes his brother will join him in training later in the season.

"Hopefully he will be back around November and ready to rock and roll," he said.

It seemed appropriate to honour Pyette at the same time as the athletes, as he started his career as a sports writer for the Sault Daily Star in 1963.

Over 29 years he worked his way up to editor and publisher of Sun newspapers in Toronto, Calgary and Ottawa before retiring in 2003.

"It's been quite a ride," he said.

Within the last year, Pyette, who now lives in London, Ontario, was also inducted into the News Hall of Fame and awarded an honorary degree from Algoma University.

"The longer I'm out of the game, the more awards I seem to have," he chuckled.

"These recipients wear the Sault Ste. Marie badge so proudly wherever they go and that's what makes you, in my opinion, a Walk of Fame honouree," said Tasha Varpio, manager of the Downtown Association.
She said this was the best attended of any induction ceremonies for the honour.

"I'm thrilled to honour folks like that, who are proud to be from here and have gone off and done remarkable things," added Varpio.
For Pyette, it was just another chance to come home and see family and old friends.

"If I had to live my childhood over again I would do it on Connaught Avenue in Buckley where we played ball, played hockey and just had a ball. It was wonderful," said Pyette.
LOCAL2 cameras caught up with Les and Mac last night as well, so click here to see more from the ceremony.
(PHOTO: Lester Pyette seen on all fours pretending to kiss a sidewalk marker bearing his name on the Sault Ste. Marie Walk of Fame during a ceremony September 18, 2014. Kenneth Armstrong/SooToday.com)