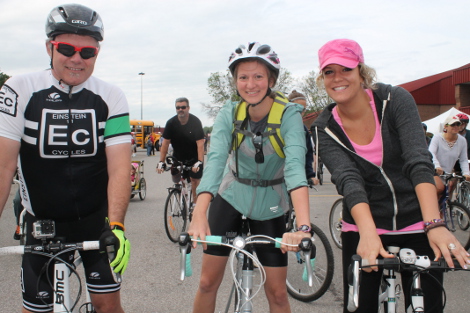 This happy trio was among many bicyclists who took part in Saturday's 27th Annual International Bridge Walk and Bicycle Parade.
The event is organized by the International Bridge Administration, the Sault Ste. Marie, Ontario Chamber of Commerce and the Sault Ste. Marie, Michigan Chamber of Commerce, as a celebration of Canada-U.S. friendship between the Twin Soos.
This marked the second consecutive year bicyclists have made a round trip of the 4.5 kilometre (2.8 mile) International Bridge.
International Bridge Authority General Manager Phil Becker told SooToday.com: "This year we saw over 100 cyclists, and that number is comparable to last year. It's been a real success and that means we'll try to continue with it (bicycling) next year."
Becker, pictured in our photo gallery with Sault Michigan's Sault Area Chamber of Commerce Executive Director Stephanie Kisner, estimated between 2,000 to 3,000 people took part in this year's one-way walk, which began from the American side of the Bridge.
Bicyclists of all ages set out on their journey across the International Bridge from Lake Superior State University's Norris Center at 8:30 a.m., led by motorcycle officers of the Sault Ste. Marie, Ontario Police Service.
Walkers began their journey from the Norris Center at 9:30 a.m.
Admission for walkers heading out to the Norris Center from Sault, Ontario by bus, and for those returning to Sault, Michigan by bus after the event, was $2.
Activities kicked off with the ladies of The Lock Cities Chorus (composed of singers from both Saults, and part of Sweet Adelines International) singing O Canada and The Star-Spangled Banner.
Becker told us security awareness was heightened as a result of the April 15, 2013 Boston Marathon terror attack, in which bombings killed three people and injured 264 others.
"Security was beefed up of course, but I don't really think it had any impact on the success of the walk. Our customs people have security in mind, but they provide it in a way that does not adversely impact this experience."
"We've had no problems at all," Becker said.
Walkers entered the U.S. with no apparent delays.
Among several luminaries in attendance were Becker, Sault Area Chamber of Commerce Executive Director Stephanie Kisner, Sault Ste. Marie Ontario Chamber of Commerce Communications and Events Manager Don Ferguson, Sault Ste. Marie Ontario Ward Two City Councillor Susan Myers, and, among Sault Ste. Marie Michigan leaders, Mayor Anthony Bosbous, City Commissioner Ray Bauer and City Manager Spencer Nebel.
Several groups and businesses were represented, including staff from Wacky Wings and approximately 55 Algoma University students and ESL instructors.
Algoma University students hailed from Canada, Brazil, Taiwan, China, Japan and South Korea.
Sault Michigan-based Summit Public Relations Strategies owner Angela Nebel told us: "We'll be participating in a number of events this weekend that encompass both Sault Ste. Marie, Michigan and Sault Ste. Marie, Ontario, and it's fabulous."
"There's a lot of international friendship here," Nebel said. "I'd love to be riding on one of the tugs (in Saturday's Great Tugboat Race down the St. Mary's River), but we'll be spectators this year."
Nebel added she would be out of town for the U.S. July 4 celebration, "but we'll be happy to enjoy seeing your fireworks Canada Day!"