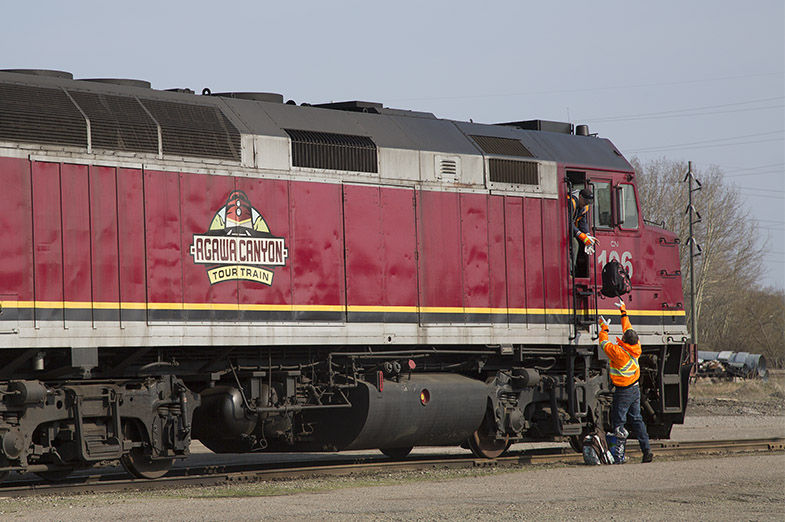 The continued delay of an agreement between the city of Sault Ste. Marie and passenger rail operator Railmark is disconcerting, says Mayor Christian Provenzano.
"This was supposed to have been wrapped up by now. It is not, so I think the city is going to have to take a good hard look at what is going on and what it is getting itself into here," Provenzano said.
City council agreed in principle to prepare an agreement between the city and Railmark, passing a resolution during the April 13, 2015 meeting, but has not yet seen the final agreement.
Final approval and a bylaw were to have been presented at the April 27 council meeting.
"I don't know that it has unfolded as expected or represented," Provenzano said.
He said he is most concerned with the effect the delay may be having on local tourism.
"It's unfortunate this appears to be having an adverse effect on the tour train," Provenzano said.
The agreement is being drafted by the Sault Ste. Marie Economic Development Corporation (EDC).
After the April 27 deadline passed, CEO Tom Dodds said he hoped to have it completed for the May 25 city council meeting.
He said some preconditions still have not yet been met by Railmark, which is the reason the agreement does not appear on the agenda for tonight's meeting.
"We're not going to bring something to council that isn't complete," Dodds said.
He said he hopes the agreement will be ready for the June 8 city council meeting.
Provenzano said he is looking not just for an agreement, but an assurance the EDC is doing its due diligence on Railmark.
"Before this comes back to city council there needs to be an assessment not only of the contract, but of the party they are asking the city to go into a contract with," he said.
"Part of the recommendation to us is whether this operator is an operator the city should be contracting with and whether this is an operator capable of carrying this project out," Provenzano added.
According to a U.S. Surface Transportation Board filing dated April 16, 2015, Railmark has agreed to the purchase of three locomotives, 12 passenger cars and three dinner cars from Algoma Central Railway.
Railmark president and CEO B. Allen Brown has said he hopes to increase ridership by running special event trains, such as dinner trains and children's trains starting in August and plans for the Agawa Canyon Tour Train to begin its operating season in June.
In November of 2013, Transport Canada served notice to CN Rail, informing the company it would no longer be eligible for an annual subsidy it had received since 1977 to run the Algoma Central Railway (ACR) passenger service between Sault Ste. Marie and Hearst.
CN publicly announced the permanent closure of the service in January.
The ACR Passenger Service Stakeholders Working Group, a grassroots organization of property and business owners, as well as affected municipalities and First Nations, made an appeal to the federal government to reinstate the subsidy for an additional year.
During that time, an economic impact study was completed by accounting firm BDO Canada and a contingency plan could be proposed.
That study determined the $2.2-million annual subsidy resulted in an estimated $38-million in economic benefit.
Shortly thereafter Lisa Raitt, minister of transportation, arrived in Sault Ste. Marie to announce a one-time extension of the subsidy.
During this borrowed time, the working group sought requests for proposals (RFPs) from about 30 rail companies across the United States and Canada who might be interested acting as third-party operator for the passenger service and tour train.
Three candidates were presented by the working group to CN for approval. In the end, Railmark Holdings, Inc. was selected to assume operation of the trains.
The selection of Wixom, Michigan-based Railmark roughly coincided with the forced closure of the company's Columbia Star Dinner Train in Columbia, Missouri.
The city of Columbia sent a notice of termination to Railmark president and CEO B. Allen Brown on December 5, 2014 for unpaid bills.
This was not the first dinner train to close on Brown's watch.
The Railmark-run Star Clipper Dinner Train ceased operation in 2008, shortly before the short line railroad it ran was sold and dismantled.
Brown previously said the sale of that line was a business decision which helped the company weather the economic downturn.
Previous SooToday coverage of this story: