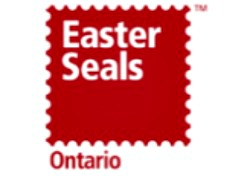 NEWS RELEASE
EASTER SEALS ONTARIO
*************************
Easter Seals Ontario is conducting a shoe collection drive starting on March 30 to raise funds for children with physical disabilities while benefiting microenterprise ventures in developing nations and keeping old shoes out of local landfills.
Individuals can help by donating gently worn, used shoes at various collection points, but Station Mall will operate a public drop off location from March 30 – April 30.
In the US alone, approximately 630 million pairs of shoes are thrown away per year.
The materials used to manufacture a pair of shoes are created from chemical compounds that will create health hazards if left to disintegrate openly or in landfills.
By donating your gently worn, used footwear to Easter Seals Ontario, your shoes are given a second chance to make a difference.
All donated shoes will be redistributed to microenterprise partners through Funds2Orgs and used in developing nations for impoverished people to start, maintain, and grow a unique business opportunity to feed, clothe, and house their families.
All kinds of footwear are accepted: flip flops to work boots, baby boots to adult sizes.
"We are very excited to be conducting this shoe drive in Sault Ste. Marie," notes Carolyn Bunting O'Connor, Development Officer for Easter Seals.
"This campaign will raise funds that directly benefit children with physical disabilities. Easter Seals assists families with the purchase of costly mobility equipment such as wheelchairs, walkers, porch lifts and ramps, as well as communication devices, toileting aids and bathing equipment. Easter Seals also helps by providing summer camp opportunities at our two properties, Camp Merrywood and Camp Woodeden. Easter Seals also offers post-secondary scholarships and provides access to information and resources, and public education and awareness. Bottom line is that Easter Seals helps kids BE KIDS."
"The additional advantages of diverting shoes from the waste stream to create commerce and sustainability in peoples' lives make this a win-win for everyone," said O'Connor.
"Our goal is to collect 25,000 pairs of shoes and the only way we can do this is if community members step up and help. I am calling on everyone to clean out their unwanted, gently worn, used shoes and donate them to us."
If you, or a local organization, are interested in learning more about this opportunity or participating in your own shoe drive you may contact Carolyn Bunting O'Connor by phone at 705-945-1279 or email coconnor@easterseals.org.
*************************