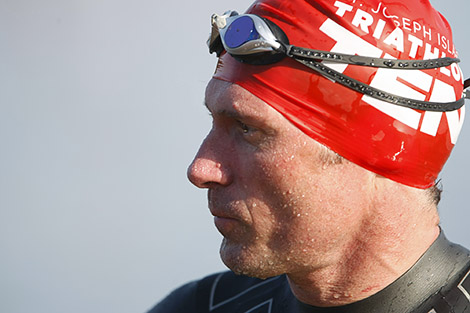 (Photo: A competitor pauses after the swimming leg of his event during the St. Joseph Island Triathlon August 17, 2013. SooToday.com/Kenneth Armstrong)
To read the original release by the organizers of the St. Joseph Island Triathlon click here.
*************************
NEWS RELEASE
TOWNSHIP OF ST. JOSEPH
*************************
Township of St. Joseph Council discusses St. Joseph Island Triathlon
RICHARDS LANDING – St. Joseph Island Triathlon Race Director Sherri Smith met with Richards Landing businesses and The Township of St. Joseph Council Wednesday evening to inform them personally that the event would not take place in 2014.
The community of Richards Landing and The Township of St. Joseph have been partnering to host the St. Joseph Island Triathlon since its inception.
The event began with approximately 200 participants in 2004 to more than double that a decade later, straining the capacity of its host community of Richards Landing.
As the event grew in popularity, organizers faced challenges over race site layout, parking, pedestrian and traffic control.
"For the past few years our core volunteer group has been struggling with the toll of pulling off the event with the amount of time and attention it requires, and the restrictions of our location," Ms. Smith informed Council. "We have had some great volunteers, but some of our key people are ready to retire. The organizing committee has worked to find solutions to the challenges of maintaining the event at its present location but have not been able to resolve them."
Council members expressed their disappointment at the news and thanked Smith on behalf of the community and expressed appreciation for her dedication and the contributions of all the sponsors and volunteers.
"The Township of St. Joseph and St. Joseph Island have benefited greatly by hosting the Triathlon for the past decade," said Wildman. "Sherri has worked tirelessly in establishing such a great event, and its popularity is a testament to all those involved. Unfortunately, that popularity has meant the event has outgrown the present location."
Wildman went on to tell Smith that the Township would always be open to working together on events in the future.
"St. Joseph Island has a long history of organizing and hosting sporting activities in both the winter and summer and will continue to do so. We look forward to working with those interested in developing new challenges for the residents of the Sault and Algoma to participate in."
*************************