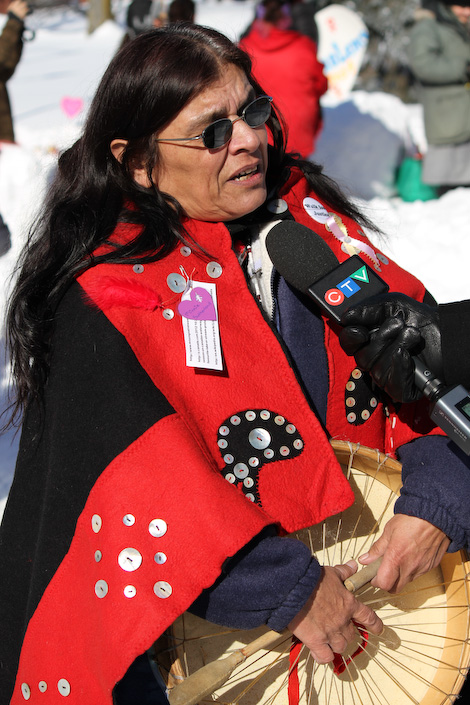 Walk4Justice co-founder, Gladys Radek (pictured), was one of dozens who attended the sixth annual Memorial March for Missing and Murdered Women this afternoon in front of the Sault Ste. Marie Courthouse.

Organized locally by Womyn 4 Social Justice, the march aims to commemorate and raise awareness of the disproportionate numbers of murdered or missing Indigenous woman in Canada.

Radek co-founded the walk to raise awareness after her niece, Tamara Chipman, went missing in 2005 and then soon discovered that three other women were missing from her community.

Chipman is one of many women who've gone missing from the area of Highway 16 in British Columbia between Prince George and Prince Rupert, a stretch of road now known as The Highway of Tears.

According to the Native Women's Association of Canada (NWAC), approximately 500 Indigenous women have been murdered and/or remain missing.

Radek estimates it at more than 3,000 in the last few decades, the majority of which have yet to be solved.

"[The government] is still in denial that this is happening and even though we've got a database, they continue to use the NWAC database - the supposed organization that represents First Nation women," Radek told SooToday.com. "Their database has been stuck on 500 for five years. Are they really doing their work?"

In order to further her fight against these injustices, Radek has relocated from British Columbia to Gatineau, Quebec.

"I wanted to move closer to the belly of the beast," she said.

In addition to today's march and speaking at the Indian Friendship Centre Sunday afternoon, Radek will be part of a public discussion session at Algoma University Tuesday afternoon at 1 p.m.