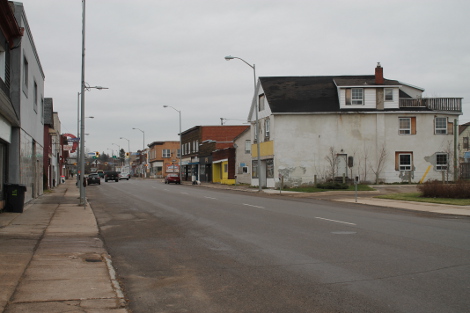 After submitting Stage One applications, City Council will be asked Monday evening to approve Stage Two funding applications to both the federal and provincial governments for assistance with Sault Ste. Marie's Downtown Community Improvement Plan (DCIP) for 2014.
It is hoped that Gore Street in particular, pictured here in a photo taken by SooToday.com late last fall, can be revitalized under the plan.
The ambitious program's total cost, it is estimated, is $2, 650,000.
Funding applications will be made to the federal government's FedNor and Ontario's Northern Ontario Heritage Fund Corporation (NOHFC).
The City will have to fork over $300,000 from its Economic Development Fund (EDF) as its share of the project's cost, with an additional $600,000 expected to come from private sector partners with an interest in the downtown core.
The Downtown Association, in addition, has committed $35,000 towards the program.
A report compiled by the City's Engineering and Planning Department, recommending that Council give the go-ahead for Stage 2 funding applications, comes after the Downtown Community Improvement Plan was discussed at the October 7, 2013 Council meeting.
Another Downtown Community Improvement Plan ran from 2007 to 2012, and it was determined to be a success.
Under that plan, the City spent $285,000 to attract private sector investment in the downtown, which led to an additional $570,000 from the provincial government and $500,000 from FedNor, for a total of $1,355,000 in downtown redevelopment funding.
According to a City staff report, the plan attracted approximately $12 million in private sector investment in the downtown area.
Through grants and tax rebates, the 2007 DCIP saw progress made regarding store front facade improvements and refurbishments of upper floors into office spaces.
Over 100 such rebates were given to 68 businesses and property owners in the area.
Now, it is felt the time is right for another Downtown Community Improvement Plan.
Two open houses were held in October and November 2013, one especially for business and property owners on Gore Street and the western part of Queen Street East, the other for the Queen Street Downtown Association merchants, property owners and the general public.
The City hopes that if applications to the federal and provincial governments for assistance are successful, funding will be in place by spring.
A variety of tax rebates and grants are included in the plan as incentives for downtown merchants and groups to improve the interior and exterior appearances of their properties.
Staff's report states it is important to create "a sense of place," throughout the Downtown, especially in the Gore Street and Queen Street areas.
For Gore Street in particular, it is hoped there will be new curbs, wider sidewalks, landscaping, benches, bike racks, garbage bins and other features.
It is also hoped that improvements for Queen Street can include new benches and more garbage and recycling bins.
City planners feel a continually improved downtown will nicely complement work already done (or planned) on five specific properties: Blueforest Ventures Inc. Redevelopment site, the Gateway Site, the Suncor Property, the former Sault Area Hospital (SAH) site and the Former Northern Breweries site.