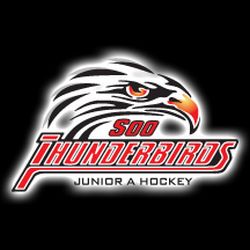 They needed overtime but the Soo Thunderbirds are back on the winning track.
Back-to-back games against the Kirkland Lake Gold Miners saw the Gold Miners end the Thunderbirds 25-game winning streak on Feb. 16 before the two clubs skated to a 3-3 tie in Kirkland Lake on Friday night. The Thunderbirds were in Iroquois Falls on Saturday night to face the Abitibi Eskimos in Northern Ontario Junior Hockey League action that saw the Thunderbirds pick up a 3-2 overtime win.
Eric Hilock scored at 3:43 of overtime to lift the Thunderbirds to the win.
Hilock finished the night with a goal and an assist in the win while Anthony Miller scored a pair of goals in regulation time for the Thunderbirds. Goaltender Joel Horodziejczyk stopped 25 shots for the Thunderbirds.
Brenden Locke and Erik Robichaud scored for the Eskimos in the loss. Sylvain Miron stopped 38 Thunderbirds shots for Abitibi.
The Thunderbirds record improves to 44-5-1-2 with the win, giving them 91 points and an eight-point lead over Kirkland Lake, who has a record of 39-6-1-4 and a pair of games in hand on the Thunderbirds.
The Thunderbirds wrap up their three-game road trip on Sunday night as they face the North Bay Trappers in the final road game of the regular season for the Thunderbirds. The team returns home for their final three games of the season.
The only other game in the NOJHL on Saturday night saw the Sudbury Nickel Barons beat the Blind River Beavers 4-1.