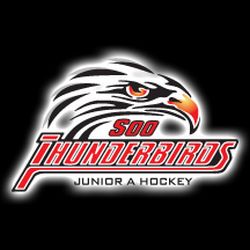 The Soo Thunderbirds are on the brink of elimination in the Northern Ontario Junior Hockey League playoffs.
The Thunderbirds dropped. 4-1 decision Friday night to the Kirkland Lake Gold Miners. With the loss, the team now trails the best-of-7 NOJHL final 3-1 with game five set for Sault Ste. Marie.
The Thunderbirds last lost three-straight games from Nov. 8-10 when they dropped all three games of a road trip with games in Kirkland Lake, Abitibi and North Bay. Following the trip, the Thunderbirds went on a 25-game winning streak.
On Friday, Kirkland Lake scored three unanswered goals in the third period en route to the win. Austin Rust broke a 1-1 tie at 13:31 of the final frame to give Kirkland Lake the lead while Everett Thompson and Damon MacEachern also scored in the third period for the Gold Miners.
The goals came after Thunderbirds defenceman Medric Mercier tied the game with a power play goal 1:54 into the third period.
Steven Babin had the other goal for the Gold Miners in the victory. Babin and MacEachern had a goal and an assist each for Kirkland Lake while goaltender Jeremy Pominville stopped 22 shots in the win.
Joel Horodziejczyk stopped 17 shots for the Thunderbirds in the loss.
Game five is Sunday night in Sault Ste. Marie at the Essar Centre. Puck drop is set for 7:30 p.m.