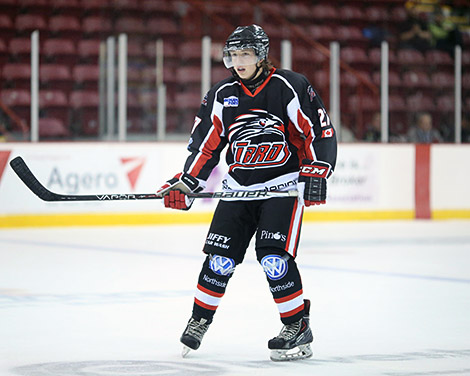 The Soo Thunderbirds are off to the Northern Ontario Junior Hockey finals.
The Thunderbirds capped off a four-game sweep of the Abitibi Eskimos on Thursday night with a 5-1 win at Jus Jordan Arena in Iroquois Falls.
The Eskimos opened up a quick 1-0 lead as Landon Hiebert scored 32 seconds into the contest.
Thunderbirds captain Gavin Burbach would tie the game at 4:44 of the first period, opening a stretch of five unanswered goals for the regular season champions.
Owen Headrick and Anthony Butorac would score in the second period while Darcy Haines and Anthony Miller added third-period goals in the win.
Haines would finish the night with a goal and two assists while Burbach, Miller, Butorac and Headrick would all chip in with assists to go along with their goals in the win.
Goaltender Brian Kment stopped 27 shots for the Thunderbirds.
Abitibi goaltender Brody Wagner stopped 33 shots in the loss.
In the other semi-final series, the Kirkland Lake Gold Miners capped off a sweep of the Espanola Rivermen with a 6-2 win. Dan Morin set up three goals for Kirkland Lake in the win while Austin Rust had a goal and an assist in the win. Jeremy Picard-Fiset set up two goals. Tanner Lafrance, Steven Babin, Damon MacEachern, Samuel Wilbur and Kyle Bishop also scored in the win. Gold Miners goaltender Jeremy Pominville stopped 30 shots.
Brandon Janke and Nathan Campbell scored for Espanola in the loss.
At the time of writing, a schedule for the NOJHL final between the Thunderbirds and Gold Miners had not been released.
For earlier series coverage, click on the corresponding game:
File photo of Thunderbirds defenceman Owen Headrick by SooToday.com's Kenneth Armstrong