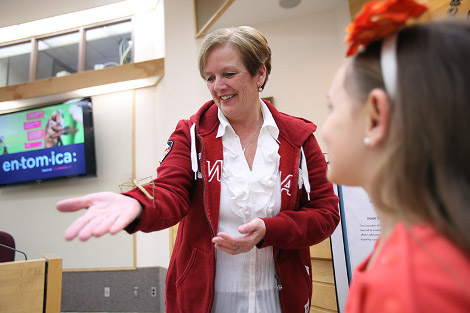 In a presentation entitled 'Freak Out! Find Out! Bug Out!' Riversedge Developments Chief Executive Officer Justus Veldman gave a well-received update to City Council Monday regarding one particular component of his company's plan to transform the old St. Marys Paper site (now known as Mill Square) into a multi-use facility for Sault residents and tourists to enjoy.
Veldman was accompanied by biologist John Dedes of the Ontario Great Lakes Forestry Centre, with a 'walking stick.'
A walking stick, in this case, is an insect (A Thailand Walking Stick, resembling a twig with long legs).
A Thailand Walking Stick has the ability to grow a new leg if it should lose one.
A brave Sault Ste. Marie Mayor Debbie Amaroso let the creature walk on her hand for a few moments (pictured, photo by SooToday.com's Kenneth Armstrong).
Together, Veldman and Dedes have been designing plans for Entomica, a part of Mill Square that is being planned as a place for all ages to learn about the fascinating world of insects, and no doubt inspire many children and youth visiting the facility to pursue careers in the sciences.
Entomica will form part of the planned multi-use facility known as Destination North.
Speaking to SooToday.com and Local2.ca's Jasmyn Rowley before Monday's Council presentation, Veldman said: "We hope to start small and develop into a regional tourist attraction, based on the local expertise that's available in Sault Ste. Marie who have come forward to us and saying we would love to do something in our own community rather than always travel to Toronto or Sudbury to do displays."
"The scientists here are a great resource to have."
Veldman said: "It will be a very interactive, live insect display, some static displays as well, but mainly a very hands-on approach to getting over the fear of insects, working with school groups and giving children something exciting to look forward to as they take science courses that deal with insects and related creatures."
Veldman and his team are confident Entomica will be a must-see tourist attraction that will draw visitors from Canada and the U.S., bringing in tourist dollars to Sault Ste. Marie and serve as a job creator (especially for under-employed groups such as youth and people with disabilities).
"It's going to be launched near the Mill Market (a separate Mill Square farmers market project, adjacent to Mill Square at the old Municipal Fish Hatchery building, set to open June 4)," Veldman told us.
"Our hopes are that on a good Saturday we'll have 3,000 people come through, and if 500 of those take a quick peek at our butterflies that would be fantastic and as word gets out that this is quite an exciting venue to be visited we hope to then move Entomica over permanently to the Pulp Tower development."
"The group of local scientists involved are currently doing this as a labour of love because they've seen this as an opportunity to do this is in Sault Ste. Marie…so far it hasn't required much funding, it's been very grassroots, which is an excellent platform to start any business from," Veldman said.
"What will be unique is the hands-on interaction with these animals, the display of lit-up creatures such as fireflies and moths, that will be one-of-a-kind in the world."
Dedes, who is also CEO of Entomica, told us: "Our main mission is to introduce people to insects and help them overcome their fears of insects…insects have a remarkable capability of sparking curiosity that leads to a lifetime of learning and discovery."
Once the attraction is fully developed, visitors to Entomica will go on guided tours and be able to safely handle a wide variety of insects in the company of trained staff, and younger visitors may engage in activities such as craft classes, in which they can create their own jewelled cockroaches.
Outdoor, landscaped playgrounds will house butterflies.
Updated modern architecture, combined with the historic sandstone of the Pulp Tower, will house the fully developed Entomica.
Visitors will enter the structure and see an insect sculpture garden containing models of large three dimensional insects, from both tropical jungles and our own area.
Entomica, it is felt, could also serve as a location for birthday parties, day camps, summer programs and of course, field trips for school groups. The EntoShop will be available for visitors to buy items such as butterfly nets, children's books, insect guides, insect themed artwork, T-shirts and nicely-framed insect specimens.
Entomica will take up 13,000 square feet of Destination North.
Other planned Destination North highlights are a relocated Agawa Canyon Tour Train Station (moved from its current location at Station Mall to the refurbished Pulp Tower building) and a Group of Seven Algoma component to highlight the work of the famous Canadian painters who immortalized, on canvas, the rugged beauty of Algoma.
The Aazhogan Anishinabek component will serve as both an educational look into the First Nations experience and a retail outlet highlighting Anishinabek arts and crafts.
Destination North's Discovery Centre will immerse visitors with elements of Northern Ontario's natural outdoors elements, including fishing and hunting.
Destination North's plan also includes space for not only travelling exhibitions, but also archival material compiled by the Sault Ste. Marie Public Library, the Sault Ste. Marie Museum and Algoma University.
In addition, The Board Mill Market will eventually house a permanent, year-round expanded Farmers Market for Sault Ste. Marie and area food producers (Mill Square recently announced that the former Municipal Fish Hatchery building, adjacent to Mill Square, will serve as an interim Farmers Market, beginning in June).
City Council unanimously approved the Destination North concept in August 2013 and directed appropriate City staff and the Economic Development Corporation (EDC) to apply for a $5 million Northern Ontario Heritage Fund Corporation (NOHFC) contribution to the development from the Ontario government.
That funding, if approved by the NOHFC, will be matched by private sector funding from Riversedge Developments and Blueforest Ventures.
After Monday's presentation to Council by Veldman and Dedes, Mayor Debbie Amaroso and Ward Five City Councillor Marchy Bruni both said they have heard positive feedback regarding the eventual opening of Entomica and look forward to the facility's launch.
More information on can be found at www.facebook.com/entomica
Dedes, Veldman and their little friend also dropped by the Local2 studio to talk about their project.