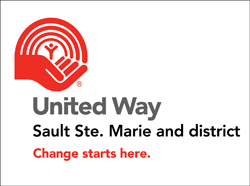 NEWS RELEASE
UNITED WAY OF SAULT STE. MARIE AND DISTRICT
*************************
Second annual United Way Trade Show
September 15 at the Station Mall (Sears Court)

United Way of Sault Ste. Marie and district is once again proud to host its Annual Trade Show on Saturday, September 15 at the Station Mall from 9:30 a.m. to 5:30 p.m.
This is a great opportunity to learn more about the programs that your donations support.

The Trade Show was established to promote the 48 funded programs which are presented to the community by 21 different member agencies.

Have you ever asked yourself, "So, I donated. Where did my money go?"

Attending this Trade Show will visually show you where your donation has gone and which services and essential programing it supports.
This event raises the level of awareness amongst United Way donors and potential donors while illustrating the impact their donation can have on our community.

Learn about the funded programs presented by Community Assistance Trust, Canadian Hearing Society, Breton House, Ontario March of Dimes and many more.

Over 20 agencies will host booths starting at the Sears Court in the mall and throughout the weekend they will be promoting their programs, initiatives, and services to the public.
Mall patrons can pick up brochures regarding all the United Way sponsored programs.

Enter our Question & Answer Scavenger Hunt for a chance to win a $50 Gift Card for the Station Mall or a TomTom EASE GPS Unit.

Drop by and meet the agencies that make a difference in your community.
*************************