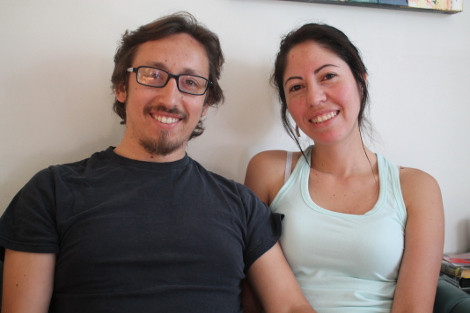 "I always wanted to travel around the world to learn from every culture, from every corner of the world, and I realized that I can find a piece of every corner in Canada."
That's what Marcelo Orellana, a 31-year-old forestry engineer who hails from Concepcion, Chile, told SooToday.com in his downtown apartment last week.
Marcelo has lived in Sault Ste. Marie, working in the forestry sector, since 2011 with his girlfriend Viviana Vergara.
Marcelo told us "you can go anywhere with forestry knowledge. Obviously, the trees in Canada are different from Chile's, but the basics are the same. Different trees, same work."
"I like it here because a lot of the forest is natural. Much of the forest in Chile consists of plantations," he said.
Marcelo likes Sault Ste. Marie's proximity to the bush.
A trip to the bush in Chile, situated miles away from typically-bustling Latin American urban centres such as Concepcion, can be quite a long trek.
"Everything is close here in Sault Ste. Marie," Marcelo said.
"If you want to go to the U.S.A., you just go across the bridge, and you can hike close to here."
Marcelo said he is impressed by how much emphasis is put on recycling in Canada (recycling is not as great a priority in his native land, he noted).
"The bus system is good here. Always on time, and the bus drivers are very respectful and say 'hi.' I like how they treat you."
Give yourselves a pat on the back, Sault Ste. Marie Transit Services!
With Canada known as a multicultural mosaic, and Sault Ste. Marie itself now becoming an increasingly multicultural centre, what strengths do Chileans bring to the picture?
Marcelo said most Chilean people bring a love of art to the Canadian multicultural mosaic, stating, in his own estimation, that "80 percent" of Chileans of all ages are artistic and love to sing, paint or indulge in other artistic activities.
Marcelo himself has recently invested in a new Nikon and taken up photography (preferring, not surprisingly, to photograph the Canadian landscape).
Both he and girlfriend Viviana (a painter who has displayed and sold some of her work locally) enjoy visiting the Art Gallery of Algoma and admire the work of the late Chilean musician and visual artist Violeta Parra.
Viviana has a degree in industrial design, and currently works locally in property restoration while both she and Marcelo brush up on their English language skills.
Marcelo also told us he feels Chileans bring the best wine to Canada.
"I'm proud when I see Chilean wine at the LCBO. I've tried French wine, but I think Chilean wine is better," he smiled.
"People here are so respectful of each other," Marcelo said, adding that while he is aware of ongoing challenges faced by Canada's indigenous peoples, he admires the greater awareness of land use and other issues facing First Nations communities.
Indigenous people in Chile face even greater challenges with forestry companies and other private sector entities, he told us.
SooToday.com has met and spoken with several newcomers to Sault Ste. Marie recently, and seeing how respectful and welcoming they find our community to be, that should inspire us all to keep up that good image.