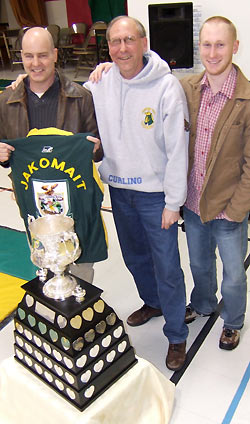 As Sault Ste. Marie curling fans prepare to greet Team Jacobs at the Sault Ste. Marie Airport at midnight, the uncle of Brad Jacobs, E.J. Harnden and Ryan Harnden spoke with SooToday.com and described how he felt watching his talented and tenacious nephews win the gold medal for Team Canada in men's curling at the 2014 Winter Olympics in Sochi.
Al Harnden, along with brother Eric, is no stranger to the curling spotlight.
Al is pictured with Brad Jacobs at right, and teammate Rob Thomas at left, in this SooToday.com photo from 2007 when they played in that year's Tim Horton's Brier.
Al watched nephews Brad, E.J., Ryan, and their teammate Ryan Fry take the gold medal for Canada in Sochi Friday "and do a little celebrating" before taking the long voyage back home to Sault Ste. Marie Saturday.
"It was an electrifying, exhilarating moment for all of us (to see the team win gold)."
E.J. and Ryan Harnden's parents (Eric and Susan), who also went to Sochi to support the team, returned to the Sault Sunday.
Al said: "It was just so gratifying to see them win that semi-final because then they knew, and we knew, they were going to be at least silver medallists and it was a great sense of relief."
"I went over there (to Sochi) just to support and cheer them on, and whatever the results would have been, I still would have been beaming with pride just to see them as Olympians and enjoying that experience."
But to see them go all the way?
"It's the pinnacle," Al said.
"I wasn't surprised with the way they came back after a slow start (Team Jacobs, representing Canada, lost two of their first three games)...for them to come out on top was amazing to see, and memorable to say the least."
Their big comeback after losing two of their first three games has now become somewhat characteristic of Team Jacobs, Al told us.
"This was almost typical of them I think," Al chuckled.
"Once they get on a roll, they're a buzz saw that can't be stopped."
"They had the same sort of slow start at the Brier (which they won) and the World Men's Curling Championship (where they took silver)."
Harnden praised the team's problem solving skills in facing early challenges and overcoming them to achieve victory.
"Brad's draw weight, he got that in the third game and never lost it the rest of the week, and his draw weight was remarkable the rest of the week."
Al was part of the team that represented Northern Ontario at the Brier in 1983, 1986, 1990 and 2007 (with nephew Brad on his team in 2007).
Al's team reached the semi-final in the 1990 Brier before a hometown crowd in Sault Ste. Marie.
Al (who is Principal of Ben R. McMullin Public School) no longer competes, but still enjoys recreational curling at Soo Curlers twice a week.
He spent three years playing with Brad Jacobs (2006, 2007 and 2008).
Al also played with E.J. in a provincial tournament in 2004.
"It was a wonderful experience for Brad and I to play in a Brier together to represent Northern Ontario in 2007."
"Those are memories that I will certainly cherish."
As for the future, Al looks forward to more success from Team Jacobs.
"They're committed to the game and becoming an even better team in the future."
"I think certainly you'll see more of them over the next few years."