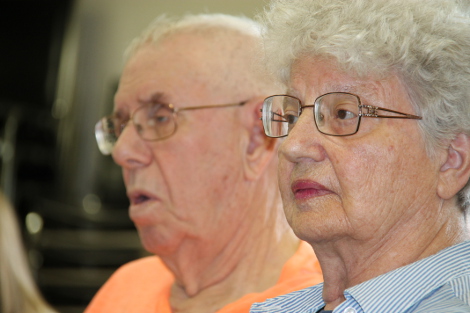 Approximately 60 people packed a meeting room at the Senior Citizens' Drop-In Centre on Bay Street for more than two hours Thursday afternoon for an all-candidates meeting.
The topic?
Seniors' issues of course, in advance of Monday's federal election.
"What I found was passion in each one of the candidates and for me the turnout was great, and seniors care about these things," said Gayle Manley, one of the meeting's organizers.
"As a senior I want to see us restore some of the things like the healthcare accord…for me healthcare is a really important issue."
"I respect how important environmental issues are in the middle of all this, a lot of good ideas were brought out today," Manley said.
"They're passionate about what they're doing…I was really tickled by the passion (Green Party candidate) Kara Flannigan showed, they need to have people in politics who are younger," said Ann Marie McPhee.
"I'm concerned about housing, I'd like to stay in my home until I can't, and there's just not enough financing to go around to help us (with home renovations)."
"We don't have enough apartments…I couldn't move out of my house now even if I wanted to because there are no apartments unless we're able to pay a huge rent," McPhee said.
"I'm hoping there will be a change in Sault Ste. Marie and across the country…I want fairer taxation," said Ray Dawson.
"My biggest worry is if I pass away will my wife be able to stay in our home with the pension she gets," said Ernie Gulyas.
"I'd like to have more to live on because right now we have to watch every nickel."
"One of the biggest concerns I have is the pharmaceutical issue, we need a pharmacare program in place," said Bernice Whalen.
"It's heart-wrenching to know people aren't getting medications they need because they don't have the money and the generics aren't available."
"What also concerns me is dementia (the number of cases are increasing)… and so we need to plan for dementia care economically," Whalen said.
"The biggest concerns are going to be the delaying of the pension from 65 to 67, and (we need) a national strategy for seniors which would include pharmacare," said Rich Prophet.
"The cost of drugs has to be controlled and it hasn't been by any of the governments."
Conservative candidate Bryan Hayes, NDP candidate Skip Morrison, Liberal candidate Terry Sheehan, Green Party candidate Kara Flannigan and Marxist-Leninist candidate Mike Taffarel were asked by a moderator to share their party policies on several areas of concern to seniors.
The candidates were asked how their parties, if elected, would care for the growing number of those suffering from dementia and their caregivers, address poverty among seniors, support a national housing strategy for seniors, forge a new healthcare funding accord with the provinces and territories, support a national pharmacare program enabling more seniors to afford their prescriptions, support a beefed-up Canada Pension Plan (CPP), provide support for hospice facilities, ensure healthcare spending will be transparent and home care and long-term care adequately funded.
The central theme from each opposition party candidate was that more money needs to be invested in each area of concern to seniors, while Conservative candidate Bryan Hayes asserted the government is working effectively on all seniors' issues.
District 3 Algoma of the Retired Teachers of Ontario (RTO/ERO) hosted the event, and were joined by three other groups: Chapter 15 of the Canadian Association of Retired Persons (CARP), the Sault Ste. Marie and Algoma Seniors Health Advisory Committee (SHAC) and the Algoma Branch of the National Association of Federal Retirees (NAFR).
According to numbers from the RTO, members of those four groups represent more than 2,000 voters in Algoma.
(PHOTO: Two of the many seniors who attended an all-candidates meeting at the Senior Citizens' Drop-In Centre, October 15, 2015. Darren Taylor/SooToday)