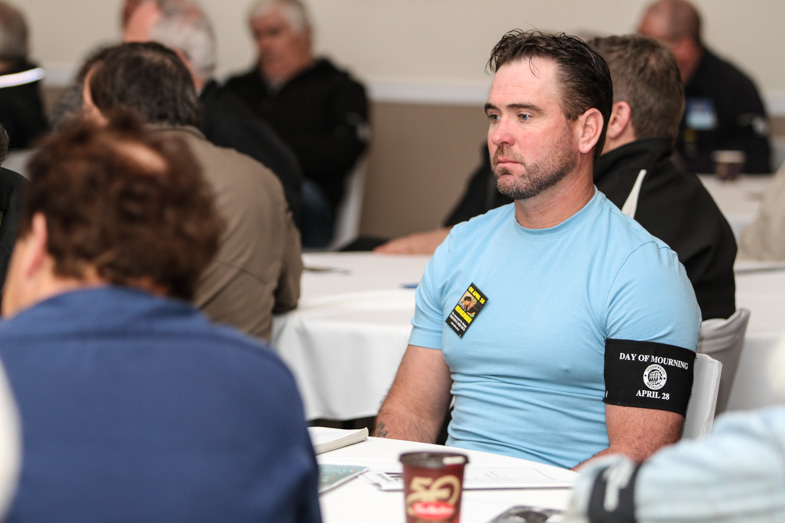 Yesterday across the country, labour unions and employees observed National Day of Mourning, a time to remember workers killed or injured while on the job.

Yesterday also marked the beginning of a coroner's inquest into the death of James Vecchio who died in April 2009 after being crushed by a crane at the Fifth Line City landfill site.

Paul Beauchamp (pictured), president of CUPE Local 3, spoke to those gathered at the Grand Gardens yesterday about the incident.

"This tragic incident left many people asking why, who's responsible, what happened," he said during his address. "Years go by and another trial happened. The company plead guilty to a lesser charge and the court systems finds a human life worth $70,000. There's still no answers and still no closure."

Speaking with SooToday.com following the commemoration ceremony, Beauchamp said the City workers did nothing wrong that day.

When it comes to tendered contracts, he and his fellow workers want assurances that those operating hired equipment are properly trained, and that the City holds those operators and pieces of equipment to the same standards as those employed by the City in terms of maintenance and quality.

"The city has one of the highest maintenance programs but they don't enforce that situation on hired equipment," Beauchamp said.

"It's always important to remember those we lost. Hopefully speaking about someone we lost will trigger a push forward and strive to make things better so it doesn't happen again."

The Vecchio coroner's inquest is expected to last two weeks with as many as 20 witnesses involved.

Beauchamp hopes new evidence will come to light that could result in additional fines or charges.

Other speakers at yesterday's National Day of Mourning hosted by the Sault Ste. Marie and District Labour Council included Celia Ross, Joe Krmpotich, Mayor Debbie Amaroso, and Mike DaPrat.

National Day of Mourning was officially proclaimed by an Act of Parliament on February 1, 1991.