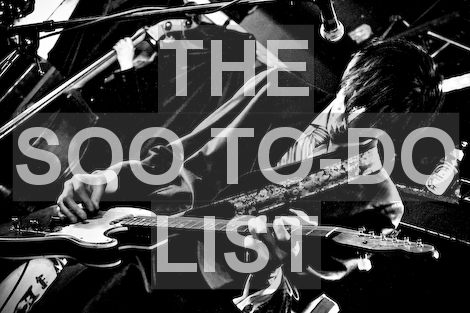 ~ SATURDAY, JANUARY 11, 2014 ~

The Scoville Unit performs at Searchmont Resort from 3 to 6 p.m.

Soo Greyhounds vs Mississauga at the Essar Centre. Game time is 7:07 p.m.

Spyder's Web performs at the Esquire Club, 102 Second Line West, from 9:30 p.m. to 1:30 a.m.

Lucky 13 plays Dock's River Front Grill, 89 Foster Dr., from 10 p.m. until close.

Thin Ice plays the Canadian Night Club, 410 Pim St., starting at 10:30 p.m.

Glitch performs at the Rockstar Bar, 864 Queen St. East. Music begins at 10:30 p.m.

~ SUNDAY, JANUARY 12, 2014 ~

Techniques for Teens at the Art Gallery of Algoma: Learn art techniques in drawing, painting, sculpture and mixed media taught by local artists and art educators who bring their talent and experience to each class. Class runs from 1 to 3 p.m. and is for ages 12 and older. This session runs from January 12 to February 16. Cost: $70 AGA Family Members, $80 Non-members. Please call 705-949-9067 for more information.

Soo Greyhounds vs London at the Essar Centre. Game time is 2 p.m.

Southside Denny plays live at Cafe Natura (75 Elgin St.) with special guest Lindsay Pugh. Show time is 8:30 p.m. This is an all-ages event. Tickets are $15 in advanced, $20 at the door, and $5 students/minors.

@ the movies: Paranormal Activity: The Marked Ones, The Wolf of Wallstreet, Lone Survivor and more! For a full list of films and times, visit www.cineplex.com

**************************

SOOTODAY.COM would like to remind everyone to have fun and keep it safe. Please don't drink and drive.

**************************

Want your event listed? Post your events for free on SooToday by clicking here.