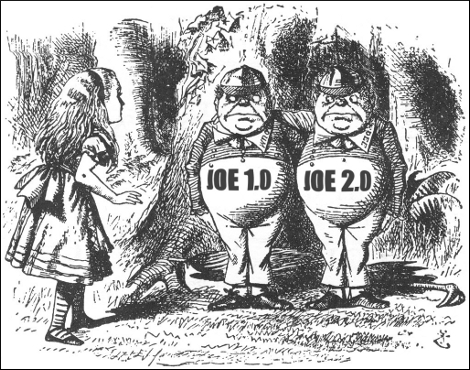 It began in blazing openness, but has now retreated squarely behind closed doors.
Sault Ste. Marie has begun the daunting process of finding a replacement for Chief Administrative Officer Joe Fratesi, one of the most powerful and controversial figures in the municipality's 127-year history.
From the outset, Mayor Christian Provenzano promised that the process to find the new Joe would be transparent.
The mayor, Ward 2 Councillor Susan Myers, Ward 3's Matthew Shoemaker, Ward 5's Marchy Bruni and Ward 6's Ross Romano were all appointed to City Council's CAO selection committee.
That was enough politicians to ensure that the committee's meetings would be open to the public.
But it didn't take long for noble sentiments of open government to give way to practical concerns about privacy and confidentiality.
By the time the CAO selection committee held its second meeting on March 4, Councillor Shoemaker, another outspoken advocate of open meetiings, was actually calling for committee members to sign confidentiality agreements.
No action was taken on that suggestion.
But when the CAO committee held its third public meeting last week, members voted to effectively eject the public from the process, by creating a slimmed-down subcommittee to review proposals from headhunters interested in helping with the CAO recruitment and selection process.
The subcommittee would be comprised of Councillors Myers and Romano, Human Resources Commissioner Peter Niro, Deputy City Clerk Rachel Tyczinski and Tim Gowans, the city's manager of purchasing.
WIth just two city councillors, the subcommittee had more city staff than politicians.
It could, quite legally, meet behind closed doors.
Mayor Provenzano defended the move, indicating it was suggested by the city's legal staff after concerns were expressed about proprietary or confidential information contained in the proposals from executive recruiters.
The headhunter-submitted documents included sensitive information about cost and price points, the identities and previous experience of individuals who would work on the project, as well as proprietary information about plans and programs.
"We don't, as a corporation, regularly make those documents available to all the different competitors to look at," the mayor said.
If those documents were presented to the full CAO selection committee, they would be subject to disclosure, allowing competitors to access each other's documents, Provenzano said.
"We are concerned that if that occurs, people are going to be reticent to do business with the City of Sault Ste. Marie.... because their competitors could access their... documents. Out of respect for people who want to do business with us and are responding to our [request for proposals], we wanted to make sure that didn't happen."
Mark Brown, an unsuccessful Ward 5 candidate in the 2010 municipal election who has spent much of this month engaged in epic tilting against CAO-related windmills, disagreed with Provenzano.
"It helps to improve the marketplace for competitors when you make it open and transparent," said Brown, who tried unsuccessfully to stop creation of the subcommittee, keeping everything in open committee meetings.
Brown called for complete transparency, reminding the five City Council members on the CAO committee about the Sault's last, very unfortunate CAO recruitment process 20 years ago.
He was allowed to speak for five minutes.
Not one member of the committee said a word in response to Brown.
Undeterred, he was back at this week's City Council meeting, again trying to raise issues of transparency and openness in relation to the CAO recruitment process.
Brown, who in 2003 was warned he would be charged with trespassing if he entered the Civic Centre, had been unsuccessful in getting on the agenda for Monday night's meeting.
He nonetheless approached the microphone and asked again to speak to the issue.
Not one member of council was willing to move that Brown be heard, even though he also generously promised to share a "uniquely fantastic" idea for honouring former Sault mayor Jim McIntyre.
Brown also tried unsuccessully to address City Council on a CAO-related matter at its March 9 meeting, becoming increasingly loud and hostile as his microphone was cut and the mayor repeatedly demanded that he stop talking.
At that meeting, Brown stopped only after being advised by City Clerk Malcolm White that he was being disruptive and if he didn't stop, the meeting would be halted and he would be removed.
White, meanwhile, has recently been assigned to Brown-management duty.
"I find the positions you are taking increasingly unreasonable," Provenzano told Brown last Thursday in an email.
"I'm having an increasingly difficult time discerning whether you are preoccupied with good governance or media attention," the mayor said.

"This email shall... serve to advise that any further communication to me as chair of either this committee or council should be directed to the clerk. I will leave it to the clerk to bring the matters to my attention as the clerk's office sees fit."

"I will not be spending any more time reading your emails or responding thereto unless the clerk determines a response from me is necessary. In that case, the response will come through the clerk's office."
None of these setbacks have diminished Citizen Brown's magnificent loquacity.
"Dear City Clerk White," he wrote in an email sent Monday. "if you have any designs on becoming our next CAO I would highly recommend attending to your duties as Mayor Provenzano's personal Mark Brown correspondence screener."
Even on Tuesday, the dizzying freshet of resplendent Brown logorrhea continued: "I would suggest to you City Clerk White that you get this information in my hands by 10 a.m. on March 31, 2015, and before the agenda review committee meets to decide who will be listed on the City Council agenda at the April 6, 2015 meeting of City Council. Please do this as quickly and efficiently as you are able, Clerk White, so that you can demonstrate your mastery of your current city clerk position when you apply to become our next CAO."