Rob and John Eusebi (pictured below) are $5,000 richer today thanks to their first place finish in this past weekend's 3rd annual Kiwanis International Walleye Tournament.

The two-day event saw 42 teams from across North America fish the St. Marys River.

The Eusebi duo enjoyed two bumper days, catching 22.9 lbs on day one and 21.76 lbs on day two for a combined winning weight of 44.66 lbs, putting them well ahead of the rest of the pack.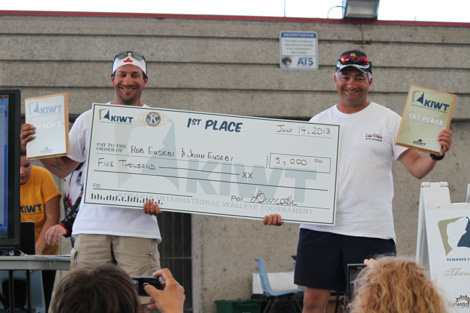 Shane Turcotte, tournament director, told SooToday.com that good fishing is easier and closer to home than most people think.

"Fishing has always been a past time that a lot of people love, but nobody really realized here in Sault Ste. Marie what great fishing we have here right on the river," he said. "Growing up, it was always pack up and go for a two- or three-hour drive to fish. Now there's a lot of new anglers that see the great fishing right in our own backyard on the St. Marys River."

With an increase in participation - 42 teams up from last year's 38 - Turcotte was pleased with the number of new anglers that took part in the 2013 event.

To those wishing to hone their skills, he recommends new anglers fish the Lake George system.

"It's an easy system to work, it's not far away, and there's a ton of fish including walleye, pike, perch, catfish, and salmon," Turcotte said. "It's really a lot of fun."

For more information about the Kiwanis International Walleye Tournament, and to plan your participation in next year's event, please click here.
Editor's note: A special thanks to Tournament Director Shane Turcotte for providing Sootoday.com access upon his boat to capture the anglers in action on the waters of the St. Marys River.