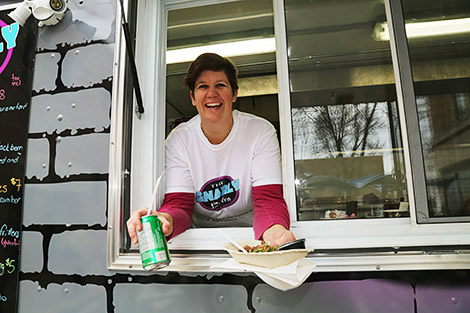 Chef Todd Tremblay has opened the Gnarly Bistro, a gourmet food truck which is currently parked on March Street south of Queen Street in downtown Sault Ste. Marie.

Tremblay describes his cuisine as "street food, but bumped up a little bit."

Todd and his wife Emily Tremblay had operated the Lighthouse Grill on St. Joseph's Island for the last five summers before taking on the challenge of operating a food truck.

Trucks such as this have been growing in popularity in urban areas, offering high-end cuisine out of vehicles that have traditionally been used for hot dogs or french fries.

They have become so popular that the Food Network, a cable television station popular with food-lovers, even has a show called "Eat St." which is dedicated to the trend of food trucks.

"It's different, nobody else has anything like this," says Tremblay. "The excitement of the truck is a little different than the day-to-day operations of a restaurant, so we have the flexibility of moving around."

The plan is to also be mobile for events like festivals, catering and weddings.

For today's opening day the menu included the Gnarly Monte.
This take on a classic Monte Cristo sandwich, which includes ham, turkey breast, mozzarella cheese, blackbean balsamic preserve, is then tempura battered and deep-fried.

Other menu items include the Grand North Bison Burger, jerk chicken "Jamaican Me Hungry" Bites, Blue Balls (Portobello mushroom and blue cheese fritters) and the Poulet Poutine.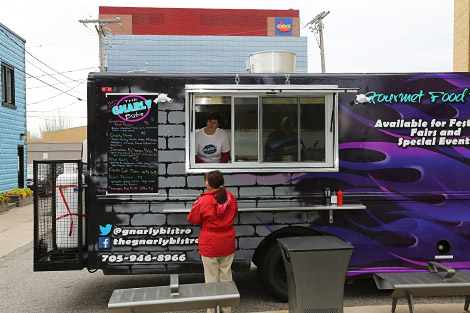 "Ideally we would like to have two locations and maybe a third, business will dictate where we go" adds Tremblay.

The Gnarly Bistro itself was custom-made from a company name "Kitchens on Wheels" that specializes in building food trucks.

The Gnarly Bistro is open 11 a.m. to 3 p.m. and will be parked on March street south of Queen Street for the rest of this week.
You can keep track of their daily menu items and location by following their twitter feed @gnarlybistro or thier Facebook Page.
****************************************