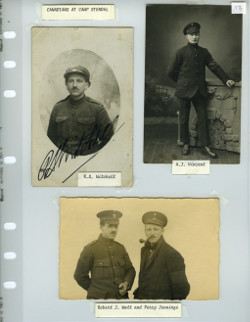 The Sault Ste. Marie Public Library is collecting war stories in an effort to archive the area's military past.
The project is being launched while the country marks the 100th anniversary of the beginning of the First World War, but the effort to collect documents covers not just the Great War but all local military participation and will be ongoing, said Kevin Meraglia, archive technician at the library.
"There is no end date for it. I want to keep it going for as long as people are bringing pieces in," said Meraglia.
Meraglia said the library is looking for photos, journals, diaries, letters or other war-related documents that can be scanned.
He said the library is not able to take artifacts and the documents must involve someone from the Sault or Algoma.
Documents that are brought in will be scanned and digitized so they can be made available to researchers studying local war participation.
Donors who bring a USB stick or CD can have their own digital copy as well.
Meraglia said scanned photos will eventually be searchable via the library's terminals.
Meraglia said he plans to see some of his own family history preserved in the archive.
His grandfather Jack Moss served as a tank driver during the Second World War and he said the family has photos taken in the weeks following the Normandy landing.
He said he also hopes to be able to include correspondence between his grandparents during the war and a three-minute oral history that his grandfather recorded.
This project will begin Monday, August 25, 2014 and the public is asked to bring material to the Centennial Library at 50 East Street to the Reference & Information Desk.
The library will have a display of documents and photos from Private Edwin Durham, a local soldier who became a German prisoner of war during the First World War.
(PHOTO: Photos from the Edwin Durham Collection show Canadian soldiers interned at Camp Stendal. Sault Ste. Marie Public Library)