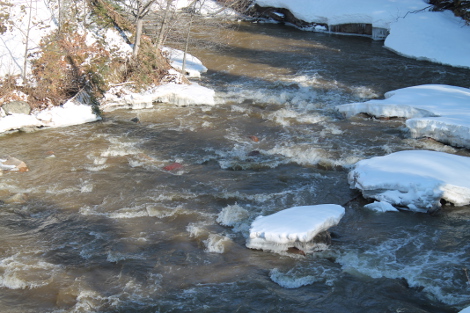 Sault and area residents don't have to worry about overflowing river banks and flooding at this point in time.
That from Sault Ste. Marie Region Conservation Authority general manager Rhonda Bateman.
Speaking to the Conservation Authority Board at its regular monthly meeting Tuesday, Bateman said the expectation of heavy rain for last weekend stemmed from information contained in a "generalized" Ministry of Natural Resources report from Peterborough last week.
Our area has experienced a slow and steady melt of snow.
Water levels in local rivers are rising as the snow melts, but well below flood levels.
"Streams have indeed risen. There's ice movement and we had reports of an ice jam in the Root River but by the time our staff went out to look at it, it was gone," Bateman said.
"The ice is mostly in the Root River at the Fourth Line area but the ice has been hitting the rocks and breaking up," Bateman said.
Warm days, cool nights and minimal rain are ideal conditions for the Sault and area at this time, Bateman said.
"Our staff are out there at the flood control channels the Conservation Authority are responsible for every morning and afternoon, clearing them out and making sure there are no obstructions…there wasn't as much fall dumping of garbage into the channels," Bateman said.
Bateman said there has been only one recent incident in which a resident has had to be warned not to dump household debris (in this case, scrap wood dumped by a west end resident) into local waterways.
Such dumping is not only illegal and unsightly, but also obstructs the flow of water during the spring thaw.
Bateman said people caught dumping debris into Conservation Authority waterways will be fined.
The Conservation Authority continues to monitor flows across the Sault and area watershed, and has reminded residents to stay clear of river banks as the snow melts.