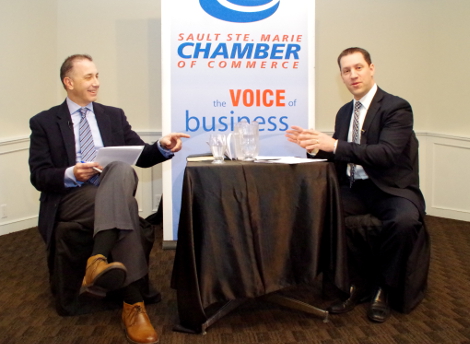 David Orazietti told the city's business community that munciipal leaders should be wary of the "danger" of relying on provincial subsidies in its budget, while promising a Liberal government would keep that money flowing.
The city's receipt of grant money under the Ontario Municipal Partnership Fund became an issue surrounding budget deliberations this year, with the Sault Ste. Marie Chamber of Commerce calling for City Hall to look for ways to be less reliant on the $17 million it receives.
The Sault MPP and Ontario Minister of Natural Resources said he doesn't see Kathleen Wynne's Liberal government changing the way it administers the OMPF, or what he says amounts to another $14 million in funding the city receives in "uploaded" services.
Orazietti said there is a real danger another government would change or completely scrap the program.
"The reality is that municipalities and communities need to be aware that (the OMPF) is a program that our government has put in place and that another government might not support," said Orazietti, speaking during a chamber question and answer session Wednesday morning.
Joe Fratesi, the city's chief administrative officer, has defended the city's use of OMPF funding, likening the fund to the vital transfer payments provinces receive from the federal government.
The chamber argues the city should increase its tax base by looking at ways of attracting industry, reducing its reliance on OMPF.
Orazietti sat down for a breakfast session Wednesday in front of the Sault Ste. Marie Chamber of Commerce to take questions on a wide variety of issues.
Chamber president Mark Barsanti quizzed Orazietti with a series of member-submitted questions on transportation, tourism, public sector wages, and municipal subsidies, among other subjects.
Orazietti was also asked his view of what he sees happening in the riding over the next decade.
Orazietti says he's optimistic that the city's population will continue to grow and that efforts will continue to be made to retain youth and diversify the economy.
"I've always believed as someone growing up in this community, that this community has so much potential," said Orazietti.
(PHOTO: Chamber president Mark Barsanti and MPP David Orazietti partake in banter during a chamber question and answer period on Wednesday. Michael Purvis/SooToday.com)