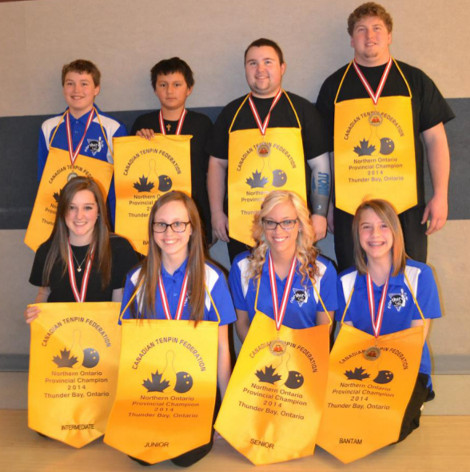 NEWS RELEASE
CANADIAN YOUTH CHAMPIONSHIP BOWLING
*************************
On June 2, 2014, 64 Provincial Champions from across Canada are preparing for a trip to Sault Ste. Marie as Northern Ontario hosts the nation's Canadian Youth Championship Bowling.
Over 200 friends, family and coaches will accompany the young bowlers and call Sault Ste. Marie home for four days as the youth bowlers engage us in riveting competition.
The prestigious event kicks off with Opening Ceremonies on Friday, May 30, 2014 and competitors take to the bowling lanes for a 3-day tournament immediately following opening ceremonies.
Tenpin youth bowlers will compete for national titles and the coveted Canadian Ten Pin Federation Gold, Silver and Bronze Medals in singles, doubles and team play.
The competition will be held at North Crest Lanes located behind the Comfort Inn and Suites.
The Youth National Team representing Northern Ontario will be Tyson Baxter, Thunder Bay, Chasity King, Sault Ste. Marie, Joshua Woolley, Sault Ste. Marie, Rhyleah Bell, Sault Ste. Marie, Aaron Craig, Thunder Bay, Brittany Woolley, Thunder Bay, Colton Burdick, Thunder Bay and Brittney Marshall Sault Ste. Marie.
For further information about the Canadian Youth Championship Bowling visit us online at www.gotenpinbowling.com.
Information such as event agenda, competitor lists, event history, etc. are now posted.
The Sault Ste. Marie Host Committee and scores of volunteers are hard at work preparing to welcome Canada with Sault Ste. Marie hospitality that is second to none.
Should further information about the Canadian Youth National Championships be required, or to find out how to get involved as a contributing sponsor of the event, please contact LIISA WOOLLEY - Tel: 705-945-9972 Email: liisa_lou@hotmail.com
*************************
(PHOTO: Pictured are members of the Northern Ontario national youth bowling team: back row: Joshua Woolley, Tyson Baxter, Aaron Craig, Colton Burdick. Front row: Brittany Woolley, Rhyleah Bell, Brittney Marshall, Chasity King. Photo provided)