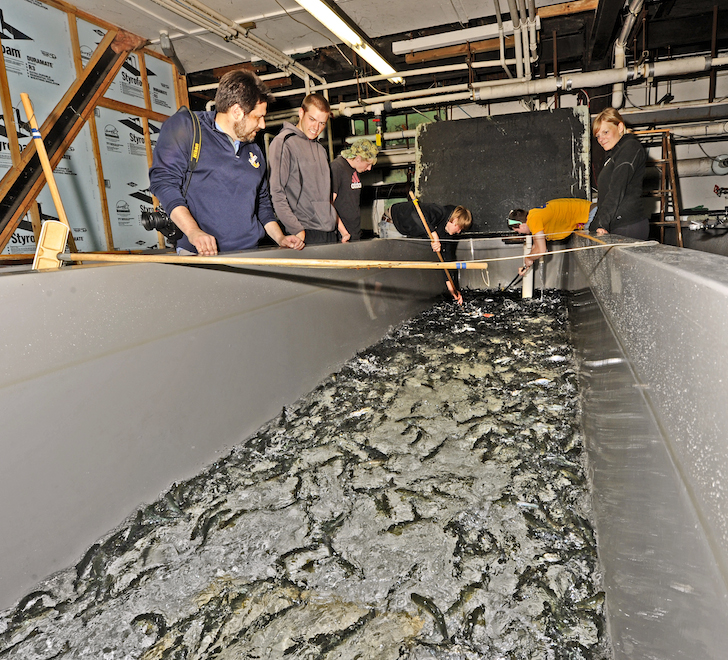 NEWS RELEASE
LAKE SUPERIOR STATE UNIVERSTIY
*************************
SAULT STE. MARIE, MI - Lake Superior State University's Aquatic Research Laboratory released 40,000 Atlantic salmon into the St. Mary's River late on Thursday, June 12.
The annual stocking culminated months of work by students and staff to provide hours of recreational opportunity for anglers.
Atlantic salmon released by the lab are always marked with clipped pectoral or ventral fins.
The pectoral fins are just behind the gills on the left and right side of the body.
The ventral fins are lower, off the belly of the fish and farther back on the body, about mid-way between the head and tail.
The left and right fins would correspond to the left and right hands of the person holding the fish if he held it belly down with the head facing away from him.
Lab manager Roger Greil says that this year's release have an average size of 19.3 cm (7.5 in.) and are marked by clipped left ventral fins.
Last year's Atlantics had clipped left pectoral fins, while those released in 2012 were marked with a clipped right ventral fin.
"Most of the fish caught in the coming weeks will be two-to-five-pound fish released last year. Larger fish from plants in 2012, some that weigh up to 15 pounds, will be coming in too," says Greil. "There are a few that are now starting to show up already, but the larger run should be here in a couple of weeks."
Greil recommends that fishermen check the LSSU "fishcam" at lssu.edu/arlto see when the Atlantics are in the river.
Although many of the fish stocked this summer will be of legal size, lab staff always encourages anglers to release young fish and keep only mature fish of 15 inches or larger.
Michigan Department of Natural Resources picked up 290,000 fertilized Atlantic salmon eggs from the ARL on January 8 for the DNR's Platte Lake fish hatchery located outside Traverse City.
Some of the fish were released into Lake Huron in April, and averaged between 4 and 5 inches in length.
More will be released into a northern Michigan inland lake this fall.
While the lab has been collecting its own eggs for several years, it collected more this past fall for the DNR, which aims to expand Atlantic salmon numbers throughout the lower Great Lakes.
LSSU's lab, in partnership with the DNR and others, pioneered the popular sport fish's introduction in 1987 and continues to play a crucial role in maintaining a healthy, broad-based fishery in the St. Mary's River and upper Great Lakes through research and rearing.
LSSU's aquatic lab is looking for information on any Atlantic salmon caught anywhere in the Great Lakes, especially DNR-planted Atlantics caught in the St. Mary's or northern Lake Huron.
"We need information from all Atlantics caught," says Greil. "Salmon without fin clips may have been produced through natural reproduction, so we have a great interest in determining if that is the case."
Atlantics stocked by the DNR are marked with an adipose fin clip -- a small, fleshy top fin just forward of the tail.
Greil encourages anglers to bring their fish in for examination at the lab, located in the Cloverland Electric Company power plant in Alford Park on the St. Mary's River in Sault Ste. Marie, Mich.
"Ideally, we'd love to have Sault-area fishermen bring the Atlantic in so we can make a positive I.D. and take a small sample of its scales for student research," Greil says.
The lab is open from 8 a.m. to 4:30 p.m. every day, including weekends.
For more information, call Greil, 906-635-1949, or visit the aquatic research lab's web page, www.lssu.edu/arl. The web cam that allows anglers to see the Atlantic salmon as they congregate behind the lab is made possible through Lighthouse.net and Cloverland Electric Cooperative.
*************************
(Photo above provided by Lake State University is titled 'Stocking the St. Mary's' - Tom Pleger Ph.D. (left), set to become Lake Superior State University's eighth president on July 1, gets a closer look at Atlantic salmon that were among 40,000 yearlings that were released in the St. Mary's River from the LSSU Aquatic Research Laboratory late on June 12. With Pleger are, from left to right, ARL student workers Robert Barta (Sunfield, Mich.), Jake Larson(Sault, Mich.), Austin Wenke (Kalamazoo, Mich.), and Sam Day (Cincinnati, Ohio). Lab co-director and biology professor Ashley Moerke looks on from the right. Larson is a high school student who interned this past spring at the ARL through Sault High's Less Than Class Size program. (LSSU/Kati Doty)